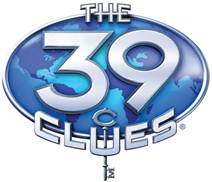 The 39 Clues is a series that just won't quit. As a parent, I love series books, because when my child finds one he likes, he knows exactly where to go to find his next book. A series like 39 Clues that is suspenseful and action-packed is even better.
The Rapid Fire stories are seven stories that work together to unlock a secret. It's all about the Cahills and Vespers, the next generation in this series.
Seven days, seven stories—one explosive secret.
Celebrate the holiday season with The 39 Clues. Beginning on December 25, a different top secret eBook short story will be released daily, leading up to an explosive finale on December 31. Codes hidden in each of the seven stories combine to unlock an exclusive card and medal on http://www.the39clues.com.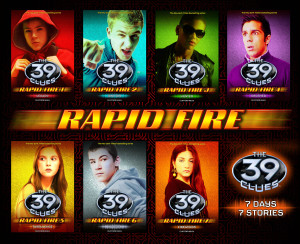 You can preorder them all now for just 99 cents each, and they'll be delivered right to your device each day.
What a fun way to encourage reading during the holiday break!
Keep up to date by liking the 39 Clues Facebook page


In honor of the 7-day, 7-story release of the Rapid Fire stories, we have an excellent giveaway for one of you (U.S. addresses only): a boxed set of all 10 original 39 Clues books in paperback (a $70 value).
Leave a comment if you'd like to win. We'll announce the winner on December 28. Of course, you won't have it in time for Christmas, but this is the kind of gift that is sure to thrill kids from 8 – 12 years old if they have any little kernal of reading love.
Don't miss a thing: Check out our current giveaways. Subscribe to our feed or video reviews on YouTube. Follow us @5M4B on Twitter or on Facebook.
Jennifer is going to set her 2nd grade son loose on the 39 Clues this summer. She blogs at Snapshot.