Kids and adults like to read what's real to them. All of these middle grade fiction novels have a strong school setting. However, they are so different — from a wide range of appeal (on for 7 – 8 year olds and another for 12+), the themes, and the writing style.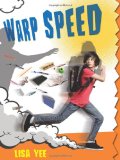 Middle-schooler Marley is invisible. No one sees him. No one except the bullies who take his homework, spit on him, and shove him around. His only hope to escape them is to run — and run he does.
Marley is a lovable hero — having become the brunt of the bullies' attention when he stuck up for their former target — with a quirky family, a reclusive father who runs an historic movie house and a self-sufficient mother who happens to be blind.
Marley loves Star Trek and keeps his own Captain's Log where he records his thoughts in sparse Star Trek style, and in spite of feeling invisible, he does have some friends — the A/V club including newcomer Max, and there's even a girl in one of his classes who likes talking to him (although he has to suppress the Klingon that comes out of his mouth whenever he tries to talk to her).
Some of the characters from Yee's other novels set in Rancho Rosetta make appearances, but Warp Speed completely stands alone. I didn't feel that I was missing anything, but I enjoyed this novel so much that I definitely hope to read some more of her novels. I loved the way she injected humor into Marley's story about the ups and downs of his school life, which ultimately showcases the power of friendship.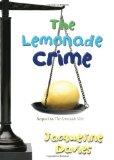 The Lemonade Crime by Jacqueline Davies is the sequel to The Lemonade War, which I read a couple of years ago when it was a "One School, One Read" selection at my son's elementary school. That one was a summer story, where siblings Evan and Jessie go head to head in a lemonade stand war. This story picks up where that one left off, trying to solve the mystery of Evan's missing (stolen!) lemonade money. The story pretty much stands alone, though I did appreciate knowing more about Evan and Jessie than was revealed in the story. The school setting is so strong here. Certain details like the school lunch menu of "chicken patty on a bun" leapt out at me (Why can't it just be a chicken sandwich?? But it never is). I did have to suspend my disbelief a bit, because I don't see a full-scale mock court really taking place on a school playground, but I like to give authors a little latitude to ramp it up. Kids who like realistic fiction — school stories, sibling stories — will like both of these books. They are pretty accessible to kids from 2nd grade through 5th grade.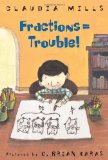 Fractions = Trouble by Claudia Mills is another sequel, though I hadn't read (or heard of) 7 x 9 = Trouble, which was published in 2004. I didn't need to know any more of the background than was obvious — Wilson has a hard time in math. When his 3rd grade class starts a fractions unit, his mom decides to help him by setting him up with a tutor, but that's the last way he wants to spend his time. Again, the school setting is strong, with not only the toils and tribulations of math being featured, but also science fair fun. This book is targeted towards younger readers, and my own 2nd grader enjoyed it a lot.
Don't miss a thing: Check out our current giveaways. Subscribe to our feed or video reviews on YouTube. Follow us @5M4B on Twitter or on Facebook.

Though I am a Round I panelist in this Middle Grade fiction category for the Cybils, my opinions are solely my own and are not meant to reflect the final outcome.
Jennifer Donovan liked school. She even participated in a mock trial in high school. She wasn't a nerd or a nobody, but she never had a tutor or spit on anyone either. She blogs at Snapshot.