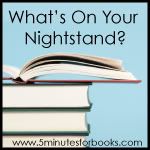 The post-holiday Nightstand posts are usually a little sparsely attended, but I'm inviting you to gear up for the first month of 2012, and let us know what you are going to be reading this next month. If you need some suggestions for your list, you can visit around the other Nightstand posts, and then write up your goals.
Either way, happy readings in 2012!
If you wrote up a post on your blog, just link directly to the post in the box below.
Check out our current giveaways. Subscribe to our feed. Follow us @5M4B on Twitter or on Facebook or YouTube.