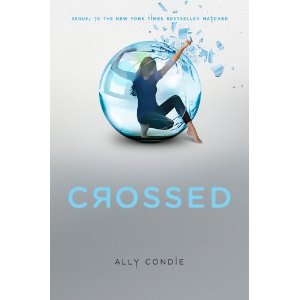 Crossed is the 2nd book in the Matched series, a YA dystopian series. You can read my review of Matched to find out about the dystopian world that Ally Condie has created.
Crossed is a little bleaker since it's set in the Outer Provinces where Ky and Cassia have been sent. I don't usually feel so glum when reading dystopian fiction (which features a future world gone bad, the opposite of a perfect utopian world), but for some reason this one gave me a bit of a hopeless feeling, at least in the first half when Cassia and Ky are wandering in the wilderness. I think that it was because it was heavier on the political plot — that's why they were wandering after all — and in my heart, I'm a conformist who likes to believe that authority is good.
I was completely pulled in to the narrative and kept reading to find out what would happen next. One factor contributing to the fast pace is the way the narration alternated chapters from each of their POV.
This is Amanda's "Kid's Pick" for her month of reading, and as I quoted her saying in that post, this book does have more romance. It's still nothing beyond some kissing, but it has that YA/soulmate feel to it (that some of us who are no longer teenagers might find a little annoying– ahem). The love triangle intensifies and leaves readers wondering whether Ky or Xander would be the best match for her (Do you have an opinion? Are you Team Ky or Team Xander?).
That said, this is a great YA title. Even not being a young adult, I enjoy Condie's writing and expression and the world she has created. I look forward to wrapping up the series when the 3rd and final title comes out next year. I wouldn't say that Crossed stands alone exactly. I didn't re-read Matched after reading it about a year ago, and I was able to pick it up, though some of the details were hazy, and I had to consult with my daughter, who did re-read it. The story in this 2nd installment does have a complete story arc, which I always appreciate, though like most endings in book two of a trilogy, there is somewhat of a cliffhanger ending.
You can win Crossed (U.S. shipping addresses only please)! Just leave a comment if you'd like to win your own copy of this very popular series. We'll announce the winner in our book giveaway column on January 25.The giveaway is closed.
Don't miss a thing: Check out our current giveaways. Subscribe to our feed or video reviews on YouTube. Follow us @5M4B on Twitter or on Facebook.
We are happy to a part of Scholastic's Parent Circle. Each month, one of our reviewers will select a book from that month's Scholastic Book Club flyers. This book came out in January's TAB flyer.
Jennifer enjoys reading YA fiction, both with and without her 13-year-old daughter whose tastes sometimes differ from her own. She blogs more about life with her family in Houston at Snapshot.