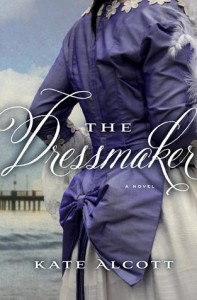 The Dressmaker by Kate Alcott is a fascinating novel of Titanic survivors.
Tess is a servant girl with a talent for dressmaking who has decided to leave her place of employ and try to get a job on the Titanic, sailing off to the United States, following the dream for a new life as so many came to America to do. When she gets to the dock, they are already loading, and all the service positions have been filled. She is a resourceful young woman, so she scans the crowd looking for someone who might need a nanny or an attendant, when she recognizes the Lucile Duff Gordon, who hires her as a maid and takes her aboard with her.
On board, Tess stands out. Even though she's still a servant girl, the social pull of the titled Duff Gordons give her the ability to stroll the upper decks, where she catches the eye of a genteel older man as well as a sailor. The inevitable happens and Tess, Lucile, her husband, and the sailor all escape. Lucile has come to recognize Tess' assets — both her skill with a needle and her straightforward manner and ambition — and offers her a job with her in New York.
In the months after the Titanic goes down,Senator William Alden Smith seeks the true story in court of why the Titanic went down and why more didn't survive. Tess and a spunky "lady newspaperman" Pinky who is covering the story become friends, and Tess also gets the opportunity to explore her feelings for sailor Jim, but when Jim upholds unflattering reports of Lucile's selfish conduct in getting her lifeboat launched and Pinky reports on it, Lucile calls her loyalty into question.
All of these elements come together to make The Dressmaker a fascinating read dipping into many different literary styles and genres:
There's a fair amount of romance (clean romance, even!), because not only do Tess and Jim explore their feelings, but Tess also ends up being pursued in New York city by a wealthy divorced man. A love triangle always ratchets up the romance in a novel, does it not?
It is of course historical fiction with the wonderful background of pre-Depression America.
It's a court drama — with Alcott using real transcripts from the trial to create realistic Law and Order type scenes.
And it's a novel of self-discovery, focusing mostly on Tess (and Pinky in a lovely supporting role), but also exploring the motivations and ultimate choices of many of the other characters.
Alcott is a journalist, and that's obvious, especially in the court scenes and the outlook of the woman pioneer Pinky. In The Dressmaker, she weaves together a lovely fictional tale using real-life characters such as Margaret Brown, Senator William Alden Smith, and the real-life famous designer Lucile Duff Gordon.
All of these elements came together to make The Dressmaker an interesting, unique, and enjoyable novel.
Jennifer Donovan blogs at Snapshot when she's not reading and reviewing here.
Check out these other historical fiction titles