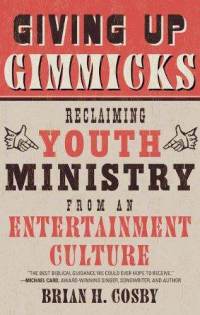 I specifically requested a copy of Giving Up Gimmicks
: Reclaiming Youth Ministry from an Entertainment Culture from P&R Publishing for review purposes, because I wanted to take a look at it. I do not have youth in my household, but I was one once, and I have many friends who can still be classified as being in that stage of life. I care about them and the future of my own children within the church. I also care about things like accuracy and "handling" in the presentation of the Gospel of Jesus Christ. For these reasons, I wanted to read this book.
Now, when I was growing up the term "youth group" was used almost as a bad word. We all knew that bad things happened as a result of youth groups. Therefore my parents, and all of the rest of the parents in the church I was a part of, opted not to have one. (This was almost irrelevant as we still had a youth Sunday School class and all of the youth aged children were friends with one another and did everything together.) The important thing though was that . . . we were not an organized group? We were subject primarily to our own parents and their wishes, but we were always encouraged to do things as a youth "group" unit. I guess you might say that we didn't have a "youth group" on a technicality. However, things within the church changed and an Official Youth Group was established. Almost immediately all of the "bad" connotations you might associate with such an organized group came to pass and my suspicions that youth groups, by their very nature, were bad to the bone.
Since my youth, I have become an adult. (Yes, this is so.) And I am a part of a church now that has a youth group and it is, by all that I can see and hear about, something that is very good. It is small but they focus on teaching the youth sound doctrine and there is heavy parental involvement, which I am very much a proponent of. It has restored my faith in, well, youth in general. I have begun to think that "youth group" can be done well and so when I came across a copy of Giving Up Gimmicks
for review, I was most curious to see how Cosby would approach the issue of how to instruct and deal with America's youth within the church.
On the whole (and maybe entirely?) I was incredibly pleased with Cosby's convictions, passions and vision for what youth groups should look like, as opposed to what they sometimes do. For starters, Cosby firmly believes that the youth of today are not afraid of being challenged by sound doctrine. In fact, he suggests that they crave it. He points to the entertainment culture and how desirous it is to occupy the minds of the younger generation with fluff and nonsense. Cosby testifies that in his many years as a youth leader, no matter how many video games youth have to play, or phones to talk on, etc., they still mope about saying that they are "bored" – with life, with their friends, with their thoughts. He proposes that we quit trying to entertain the youth, but challenge them to talk out, learn about and live their Christian walk.
He writes:
In the September 25, 2010, issue of World Magazine, Jamie Cheaney concurs that the "youth group is often seen as a way to keep kids off the streets." If we can just get them into a church, that'll fix the problem. While going to church is certainly a good thing, simply going to church won't fix the problem of sin. The irony that Cheaney points out is that in an age when youth are busier than ever in sports, Scouts, math club and homework, they are at the same time bored and purposeless. (Chapter 2, What is a Means of Grace Ministry?, page 28)
Cosby spends the whole book calling parents and church leaders to rise to the challenge to challenge the youth. Instead of focusing on "themes" in a sermon series, (i.e, "What I Learned from The Lord of the Rings" for example), we should be teaching them how to pray (and provide opportunities to practice!), the importance of church membership, the importance of the Lord's supper and baptism. Those are subjects which you can, no doubt, identify as being hefty for Christian adults these days to be wrestling with. But he would suggest, as would I, that there is no good reason why a youth cannot begin to learn of these things. (Perhaps if adults these days had begun to grapple with these issues as teenagers, they wouldn't wrestle with them so violently as adults?) As a parent, it is my hope and my prayer that my children will grow and mature in a relationship with Christ as their Savior. I do not expect them to play their way through the first half of life, and then suddenly be interested in the Lord and church matters when they are in their 30's. They have the benefit of a heritage in Christ and I hope that they grow and build on it every single year that they are alive.
Not only does Crosby encourage the youth to be led deeper into the Gospel of Jesus Christ (being shown how it applies to them, affects them and can minister to them and others) – which I very much like – but he also calls for growth in the youth leaders themselves. He does not in any way suggest that ministering to youth is an easy task and he encourages the reader who is or is contemplating working with youth to equip themselves to do so.
Being equipped for ministry is different from earning a seminary degree. Like ordination certificates, seminary degrees can be bought online and shipped to your house. But being equipped takes time and effort. It takes commitment and a desire to grow in the knowledge and love of God. I have noticed a trend among pastors and youth ministers to stop reading and growing after entering the ministry. Between the phone calls, e-mails, hospital visits, and sermon preparation, they feel that they don't have time to read anymore. But if you're not learning, you're not leading! God's people want to follow a shepherd who is constantly reading, growing, listening, meditating, and doing the task of theology. They want to be given a biblical response to current trends and social issues. So often, however, these disciplines take a back seat to pragmatism and a false sense of church growth. The result is an under-equipped flock for the work of service and ministry. (Chapter 6, Satisfied by Service, page 87)
As you can see, Crosby takes no pains to spare you his point. He requires a lot from his readers because he believes that more can be required from the youth than we typically think them capable of. Crosby truly has a heart that is designed to minister to youth and he is not ashamed to stand up and argue, on their behalf, that we give them more to think on and contemplate. Entertainment has a purpose and a place in life and we should embrace times in which we can laugh and enjoy good company. But there is also a time to learn and Crosby writes in order to persuade the reader that youth have great mental capacity to learn great things.
I liked this book. I must say I liked it very much.
Do you have a take on Christian youth groups that you'd be interested to share? No doubt you have an experience or two to make note of. I'd be very curious to hear your impression of this book if you have a moment to leave a comment.
Thank you, P&R Publishing, for shooting me a copy of this book in exchange for my honest thoughts.
Carrie relates most every book she reads to her Christian walk in some way or another. She blogs about books and her faith at Reading to Know.