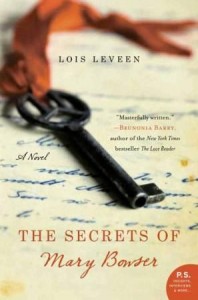 In the years leading up to the American Civil War, abolition was a cry taken up in the North, yet was a concept many in the South could not even begin to imagine. Melding fiction with history, Lois Leveen brings us the story of a woman born into slavery who went on to play a role in the events that led to the Union's defeat of the Confederacy and the eventual outlaw of slavery across the country. The Secrets of Mary Bowser entertains and informs, weaving a tale of a little known woman who risked more than one can imagine for the greater good.
In industrialized Richmond, Virginia, in 1844 when the novel opens, slavery doesn't look like the familiar plantation scene. Though Mary and her mother are two of the seven slaves owned by the Van Lew family, their work is completely domestic as caretakers in the house. Mary's understanding of their status as property is stated early in the novel:
"[N]either Old Master Van Lew nor his Philadelphia-born bride could quite abide the way human chattel were treated in Virginia. We were Van Lew property. To Old Master and Mistress Van Lew, keeping us suitably clothed and fed was a measure of both their financial and their moral accomplishments."
While they were adequately fed and clothed, they were not free to live with Mary's father, who was owned by a Richmond blacksmith and lived in two rooms of a small building in the city. They were allowed to spend Sundays together, days that young Mary longed for all week as she worked beside her mother in the Van Lew mansion. But as Mary got older, her life would take a turn that neither of her parents could ever have predicted.
Elizabeth "Bet" Van Lew, educated in Philadelphia, returns to Richmond with subtle talk of change, after seeing life in the North where freedom was a reality for some. The encouragement that she gives her mother to offer wages to her slaves soon deepens to a quest for complete abolition. Through her influence, Mary is eventually offered her freedom and an education when it becomes clear that she has an intelligence about her that is uncommon among anyone.
The next twenty years of Mary's life unfold on the pages, from her education, both in the sense of formal schooling and the exposure to a variety of perspectives about the states of slavery and freedom in the time, to her personal sacrifices and integral role in the events of the Civil War. Emotional and affecting, the story touches readers' hearts and gives many a history lesson at the same time.
Though there is little historical record about the life of Mary Van Lew Bowser, it is known that she and Elizabeth Van Lew were involved in espionage for the Union Army during the Civil War, and this novel fills in the blanks by placing Mary at the heart of many critical events in the war. While it's likely to be a more embellished story than reality, the spirits of both Mary and Elizabeth come alive in a completely believable manner. I was blown away by the personal tone that Lois Leveen was able to capture in the character of Mary, who leaps off the page from childhood to adulthood as an incredibly perceptive and selfless being.
The Secrets of Mary Bowser provides a remarkable story told with heart, and gives a face to the abolitionist movement unlike any other I've read before.
Do you enjoy mixing your history with your fiction? Leave a comment and let me know.
Dawn usually wouldn't crack open a history book on her own, but she loves when a captivating story makes her want to learn more about real events. When she's not reading (or Googling as a result of her reading), she tries to blog when she can at my thoughts exactly.