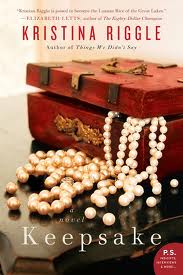 This lovely book arrived at my workplace on a Thursday morning and, despite having several other books that were already waiting to be read and which were coming out sooner than this one, I started reading it at lunchtime and hardly put it down for the next three days. I took a break only when the feelings it evoked became too intense and I needed to breathe for a little while before diving back in.
The central character in Keepsake is Trish, a woman whose husband has divorced her, whose older son has moved in with his girlfriend's parents, and whose younger son is in danger of being removed from her home by Child Protective Services, all due to the extreme amount of clutter that has taken over her home. Afraid of how his little brother Jack would survive a separation from their mom, Drew goes to see his mom's sister, Mary, and begs for her help cleaning up the house.
Although Mary's environment is completely the opposite of Trish's, it soon becomes apparent that both sisters are stuck, unable to move forward from the events of the past. Having grown up with a hoarder for a mother, they have reacted in different but equally unhealthy ways to the difficulties of their childhood and the pain of their mother's untimely death. Mary does come and help Trish, not realizing that digging through the layers of accumulated stuff in her house will reveal secret pain from not only their own lives, but from their late mother's as well. Trish is also devastated to realize that Jack has followed in her footsteps as he fights the cleanup even more than she is.
I can so relate to these sisters and the difficulty they have in facing their pain. Although I am not a hoarder like Trish or a obsessive cleaner like Mary, I have an intense need for control of my surroundings and my relationships with others which fluctuates depending on the day and how I am feeling. Walking through the process that takes place in this book was actually therapeutic for me in a way, helping me see that whenever we arrange our lives in such a way that it pushes people away from us, we are only making things worse in the long run.
With Keepsake, Kristina Riggle has approached an emotionally-charged topic with grace and sensitivity, without ever forgetting that, first and foremost, she is telling a story. Her characters are true-to-life and the narrative and dialogue are equally natural and readable. This novel is one I would highly recommend to all of my friends.
We have a copy to give away to one of you (U.S. and Canadian shipping addresses). Just leave a comment if you'd like to win, and we'll announce the winner in our book giveaway column on July 4. This giveaway is now closed.
Check out our current giveaways. Subscribe to our feed or video reviews on YouTube. Follow us @5M4B on Twitter or on Facebook.
Trish loves when a book challenges her ways of thinking, especially about herself. When she isn't reading, she is taking care of her son and blogging at In So Many Words.
Other Books You Might Enjoy