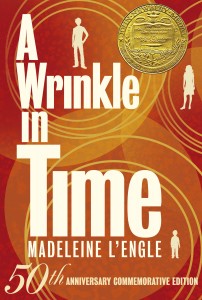 It was a dark and stormy night. I was 12, recently moved 1200 miles from home, lonely, having a hard time making friends at my new junior high school. I was sick a lot that year and my mother, knowing what a hard time I was having, was patient with me, letting me stay home where in previous years she would have insisted I go.
We'd moved from a tiny town in the Canadian prairies to a town in Northern California's high desert, and the one good thing that place had to offer was a library that would let me take as many books as I wanted at any given time. I thought they were crazy. I would stagger out of there with 20 or 30 books. My English teacher noticed me too. She invited me to be on the yearbook and the student newspaper.
The combination of these things—loneliness, sickness, access to lots of books—made this a year that I spent a lot of time snuggled under blankets, reading, escaping into the world of my imagination. I remember that English teacher (I don't remember her name, sadly) giving me a copy of A Wrinkle in Time
and saying, "Try this. I think you'll like it."
I opened it and read, "It was a dark and stormy night. In her attic bedroom Margaret Murry, wrapped in an old patchwork quilt, sat on the foot of the bed and watched the trees tossing in the frenzied lashing of the wind," and was already hooked. I didn't have an attic bedroom–we lived in a depressingly-average 60s-era bungalow–but I wanted one. I did have a patchwork quilt. And I love storms. By the time Mrs. Whatsit showed up and announced wild nights were her glory, I knew I had found a book to keep and treasure. (I got my own copy, don't worry.) And so, I was along for the ride as Meg and Charles Wallace and Calvin tesseract across the universe to save Meg's father, in an adventure that mixes theology, science fiction, pure fantasy, and the realities of everyday life on planet Earth.
I think the feeling of being alone is universal. Every child can relate to crushing embarrassment at school, to feeling misunderstood by even loving parents and siblings, to cowering in a storm and wondering if anyone else out there will ever understand you. That's part of what makes A Wrinkle in Time
such a great book. It's instantly accessible. But then, to have Meg celebrated for her faults, to realize that what is so scary about Camazotz is that there is no originality, no true humanity, was very affirming to me as a young teen. And even though I knew that, unlike Meg, I would never do higher math, stories like this still gave me courage to keep on facing down my fears every morning on my way to that junior high.
I went on, of course, to read the companion books, then many of L'Engle's other books. Now, as an adult, I especially love her non-fiction and poetry. All my copies are signed too, because she once visited Portland and I was able to hear her speak, and she was just as affirming and imaginative as you would expect. She was too tired to sign books afterwards, so we were encouraged to submit a list of up to 10 titles, and she sent us signed nameplates in the mail. That generosity is still stunning to me.
Once I had kids, I couldn't wait to share my favorite books with them. They enjoyed A Wrinkle in Time
too; begging me to keep going through just one more chapter to find out what happened.
It's hard for me to believe A Wrinkle in Time
was published 50 years ago–it still feels very fresh to me. This book was legendary for the number of rejections it received before someone finally had the courage to publish it, and I do feel it was ahead of its time. The legend lives on–one of last year's most popular YA books, Matched
, imagines a world very like Camazotz, and what might happen to give one of those identical children the courage to break free.
The new commemorative edition is gorgeous, with all sorts of extras—a copy of L'Engle's acceptance speech for the Newbery Awards, a copy of a chapter from the original manuscript with her own scribbled pencil marks, an introduction by Katherine Paterson and an afterword by L'Engle's granddaughter Charlotte Voiklis, telling a bit of her Gran's story and the story of the book. There are family photos, including one I love of Madeleine reading to her two granddaughters, and more. There's also a special facebook page for the 50th Anniversary commemorative copy, where you can keep up with different events that will be happening this year to celebrate the occasion.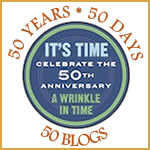 This post is part of a special 50 blogs in 50 days celebration, so please read some of the other thoughts, with a different theme each week.
A Wrinkle in Time
is classic for all the right reasons—because it is a story that has and will endure, because it touches something timeless in all of us. If it's been a while since you're read it, I encourage you to share a copy with a young person in your life.
One of you (U.S. only) will win a copy of the 50th anniversary edition of A Wrinkle in Time. Just leave a comment, and we'll announce the winner in our giveaway column on February 8. This giveaway is now closed.
Don't miss a thing: Check out our current giveaways. Subscribe to our feed or video reviews on YouTube. Follow us @5M4B on Twitter or on Facebook.

Elizabeth is glad she never has to be 12 again, but she survived. Learn more at her blog Planet Nomad.