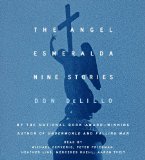 I like to say that I enjoy literary fiction, but in reality, I enjoy "popular literary fiction," — well-written, with perhaps a bit of social commentary thrown in, but nothing too deep or esoteric. The Angel Esmeralda: Nine Stories by Don DeLillo, winner of the PEN/Faulkner prize and the National Book Award, is truly real literary fiction. So much so, that as I was reading the stories (listening to them actually), I wish that it was under the context of one of my college English classes. If your book club is more high-brow than mass-market, you might enjoy discussing these stories at one of your meetings.
I enjoyed the writing in each one of these stories, and even the brain-hurting part of dissecting some of them, but sometimes I just wanted a plot! Some of them delved into character and prose at the expense of plot.
The stories are not at all connected, but do have some similarities: a few, including the title story, are set in New York, and as with any good story set in New York, the city becomes part of the story. "The Starveling" was one of my favorite stories, though it was light on plot, in which a man spends his day seeing movie after movie — taking to the streets of New York and using the subway maps to navigate from one showtime to the next.
"Hammer and Sickle" and "Midnight in Dostoevsky" each deal with institutions of a sort — prison and a college campus. They also both nod to Russia, and were also stories that I enjoyed, because the characters completely came to life. What's more "Midnight in Dostoevsky" was especially effective in the audio version that I listened to, because of the plotline involving peppy TV hosts that the narrator really brought to life.
AUDIOBOOK NOTES: The 9 stories have 5 narrators: some male, some feamale; some reading only one story, and others appearing a second time. Each story is read wonderfully, and I think that listening to them as opposed to reading them made it more enjoyable. Because they are short stories (though some are fairly long "short" stories), I was able to keep the discs in my car and listen to one over a period of time without having to invest hours and hours on one novel, if that makes sense.
Jennifer Donovan loved her English major days, but she also enjoys just slipping away into a book. She blogs at Snapshot.