I've seen quite a few books from the publisher Clavis, specifically from authors Liesbet Slegers and Guido Van Genechten (linked to a couple of previous reviews). They are all simple, yet not for the simple-minded, and because they have a European feel (and indeed first published in the Dutch language in Holland), they are different from many children's books you may have encountered here in the United States.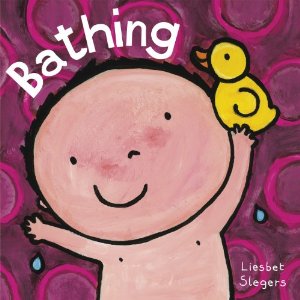 The fact that they are board books makes me even happier. I've mentioned a time or two that I'm quite enamored with the sturdier-than-usual pages and enjoyed them with my kids well into their preschool years.
Bathing and Playing are both part of the Day to Day Board Book series. I remember sharing Eating with my 2-year-old cousin when she visited last year, and she enjoyed it, proving it was perfect for the target audience.
The text is very simple, but since my son Kyle basically taught himself to read because he remembered words that he saw and basically built up a very high sight word bank, I definitely see the value in sharing these kinds of books with toddlers.
Playing looks at a little boy's day and all the toys he enjoys, such as a car, wagon, blocks etc. I have to wonder in this digital age, where TV and computers are part of kids even at ages 1 to 3 (they were in mine!), if reinforcing what play looks like might be a necessary encouragement.
Teaching about daily life is important for kids this age. Though it seems boring and obvious to us as parents, it is important for babies and toddlers who are developing a sense of self to see that mirrored in books.
Bathing goes through all the steps — from filling the bathtub, to getting undressed (and yes, you see a cute drawing of his bare bottom, washing hair and body, playing, and drying off. Kids seem to be in two camps about bathtime — they love it or loathe it. If they are in the first camp, they are going to enjoy reading a book about a little boy who also loves his bathtime. If they are in the second group, I honestly think that the author makes it look like a lot of fun! This is probably my favorite book of the ones that I've seen in this series.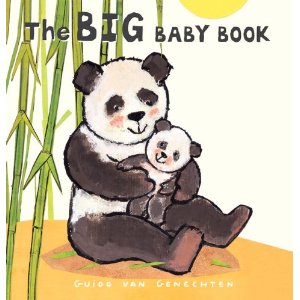 Guido Van Genechten brings us two books that go a step further by making associations as well, making these books appropriate for older kids as well (perfect to share with siblings).
My Daddy tells about all the fun things that John does with his dad — crawling between his legs, flying high above his head, listening to a story and more. All of these things reinforce the difference between kids and grownups.
The Big Baby Book is a favorite of mine and would probably hold interest for even an older preschooler. It opens with a young boy patting his mom's pregnant belly and being told that he was in her tummy before he was born as well. Then we see that "everybody comes into the world as a small baby." Several animals are introduced and their first days are contrasted with ours.
This would be a perfect book to share with young kids who are interested in science, since there are wonderfully age appropriate facts about these animals, such as mice which are "totally naked and pink when they are born" with a pretty accurate yet still bright and cartoonish picture. These animal babies (like human babies) are always hungry and thirsty, and they are fed in different ways (by a mama bird offering a worm and a calf getting milk).
The book comes back to the human story line saying that Josh used to be a baby too, but now he's a big brother.
Obviously it's a great book to buy for a little one who is about to become a big sibling, but as I said, I think it goes far beyond that tiny window.

Alas, Jennifer Donovan's 7-year-old and 12-year-old children are well past the board book stage, but she's already looking forward to reading to her grandchildren (though she's willing to wait 15 years or so!). She blogs at Snapshot.