Fall means pumpkins, leaves, and Halloween. Here are some delightful books to charm you and your children this fall season: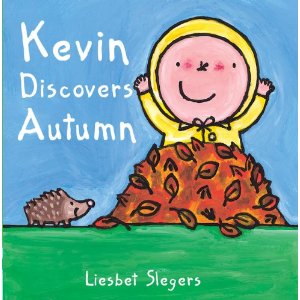 Kevin Discovers Autumn by Liesbet Slegers is one of those books that is sort of a hybrid picture book/board book. It's larger than a board book and has a regular cover, but pages that are thicker than standard paper (yet not as thick as a board book).
The story is told from preschooler Kevin's point of view. Any child will probably identify with the kid-speak. I almost laughed out loud at the precise explanations on the first page: "Hello, I am Kevin. In a minute, I'm going outside. First, I put on my jacket and my boots, because it's already cold outside. It's autumn."
This book would be a perfect addition to a Fall unit (at a school, homeschool, or just a focus at home). The pictures are bright and simple.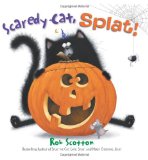 Scaredy-Cat, Splat! by Rob Scotton is another fun book. Apparently Splat the Cat is featured in a few other books, but this was the first time I had "met" him.
Splat wants to win the scariest costume in Mrs. Wimpydimple's class (isn't that a great name to read-aloud?), but his friends Spike and Plank don't think he's scary at all. When something goes awry during Mrs. Wimpydimple's ghost story telling session, it looks like Splat might get his wish.
Rob Scotton is going to be making quite a few author appearances this month in CT, NY, NJ, CA and more. Check out his schedule.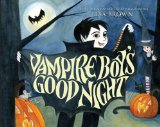 Vampire Boy's Good Night by Lisa Brown
This book is a lot of fun. The artwork is absolutely beautiful and so evocative of all that Halloween should be: whimsical scariness, costumes, and bare trees stretching out into the darkness.
Bela is a real little vampire and Morgan is a real little witch. They head out (on Morgan's broom of course!) on Halloween night to find some children to watch. Bela is trying to convince Morgan that children are real and not made up. It's a cute story that could definitely serve to get them more excited about Halloween.
One thing I noticed about this book is that it's a great easy reader. Some picture books that are made for reading aloud have longer more complex sentences and vocabulary. This one has short sentences and easier words, which means a younger reader could enjoy it quite easily on his own.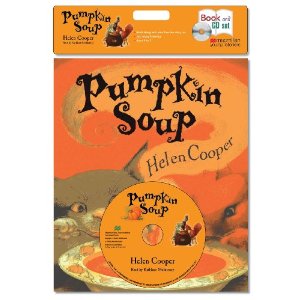 Pumpkin Soup Book & CD set is perfect when you want a break from all the storytelling. Your kids can listen to Kathleen McInerney read Helen Cooper's classic tale.
McInerney's warm and expressive voice tell this fall story of friends who learn to work together in such a nice way. There is also some background music and sounds (such as rustling) that will add to a child's listening experience.
The pictures in the book are also warm and feel so autumnal. As Cat, Squirrel and Duck work together on a project, kids learn that working together isn't always easy, but the results are worth it.
Jennifer Donovan loves the fall season: apple-picking, dressing up, candy (especially anything with peanut butter and chocolate), and crisp sunny days top her reasons why. Read about more of her likes at her blog Snapshot.