For the month of October, Mailbox Monday has moved over to She Reads and Reads. Be sure to check it out, and if books regularly make it into your house (via any source other than the library for the purposes of this meme), then you should consider linking up yourself.
JENNIFER
Last week I received a couple of books featuring or written by Laura Ingalls Wilder, and then I saw the Cybils nominee of (check out my post for more Cybils suggestions!) Borrowed Names: Poems About Laura Ingalls Wilder, Madam C.J. Walker, Marie Curie, and Their Daughters, and thought it would be a nice way to round up that review (and hopefully giveaway) post, and lo and behold, it arrived.
This week I ordered another Cybils nominee that caught my eye. I thought that Amanda and I would enjoy Spilling Ink: A Young Writer's Handbook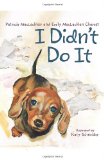 I have to continue the Cybils theme here, and say that when I Didn't Do It arrived this week, I loved it so much that I promptly reviewed it (it's linked to my full review), and am kicking myself that I already nominated a book for the Poetry category in the Cybils, because this book is wonderful.
DAWN
Have I ever mentioned how much I adore picture books? This week has brought some new ones into our lives, and we're enjoying some for their humor and others for their beautiful illustrations.
For my own reading pleasure, this week brought some "self-help," memoir, short stories and novels. (Oh my!)
NANCY
This week's mail brought a book for each of my kids:
Just One Bite by Lola Schaefer and Geoff Waring – this book is adorable, and huge! It depicts the size of one bite of food for a dozen animals, and the bites are shown life-size, hence the size of the book.
The Adventures of Ook and Gluk, Kung-Fu Cavemen from the Future by Dav Pilkey – this is the second graphic novel by George Beard and Harold Hutchins, the main characters of the Captain Underpants books. My 7 year old has read this book a few times already but I'm yet to read it myself. Now that he's reading on his own more it's harder to stay on top of what he's reading.
And one for me:
No Mercy by Sherrilyn Kenyon – this is actually the 19th book in a series but it will be the first for me, so we'll see how it goes.
I also downloaded two books to my Kindle, the first from the list of free books and the second from NetGalley:
Raising Jake by Charlie Carillo – a friend of mine just read this and loved it, usually a good sign.
You Don't Love This Man by Dan DeWeese – ok I admit that the main thing that drew me to this book as that the author grew up not far from where I live now and taught in one of the high schools in my city.

Check out our current giveaways, subscribe to our feed, and/or follow us @5M4B on Twitter.