Knuffle Bunny Free is the third and final book in the Knuffle Bunny trilogy and it's a perfect ending. Similar to Toy Story 3, it's about growing up, letting go.
In the first book, Knuffle Bunny: A Cautionary Tale, a toddler named Trixie brings her Knuffle Bunny on a trip to the laundromat with her daddy. Unable to understand her increasingly anguished pleas – aggle flaggle klabble isn't easily translated – Daddy and Trixie get all the way home before Mommy realizes what Trixie's been trying to say all along -Knuffle Bunny got left behind. Fortunately he was just in the dryer.
In the second book, Knuffle Bunny Too: A Case of Mistaken Identity, Trixie is now in preschool and both she and Knuffle Bunny make a new friend. At 3am, Trixie realizes something's amiss, and Daddy treks across New York City – my favorite scene in all of the books – to rectify the situation. Trixie gets back her own Knuffle Bunny.
The final book, Knuffle Bunny Free: An Unexpected Diversion, follows Trixie, her parents and the beloved bunny on a trip to Holland to visit Trixie's Oma and Opa. When Trixie once again realizes Knuffle Bunny was left behind – in the seatback on the plane – everyone realizes how grown up she is. So when Knuffle Bunny is found – still in the seatback – Trixie makes a very grown-up decision. The ending is just so sweet and I couldn't help but shed a tear.
The artwork in the Knuffle Bunny books is very unusual – black and white digitally enhanced images serve as the background for the colorful Trixie and her family. I personally love that the first two books take place in NYC, the brownstones they pass on the way to the laundromat and Washington Square Park in the middle of the night are just perfect for the story. I also find it refreshing that Trixie ages in each book – from a toddler to a preschooler to a big girl. Each book also has cameo appearances from other of Mo's characters – the pigeon on a tee shirt, Trixie reading an Elephant and Piggie on the plane, even Leonardo as a doll in Trixie's room.
Mo Willems recently went on tour to promote Knuffle Bunny Free, along with the new Elephant and Piggie, We Are in a Book!, and I was thrilled to learn he would be at the Tattered Cover Book Store in Denver, just over an hour away. I surprised my 7 year old by picking him up early from school and braving the Denver traffic to see Mo.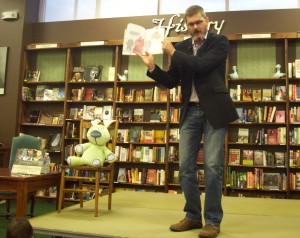 Mo came out to a loud round of applause, accompanied by a large Knuffle Bunny, who sat on a chair for the readings. Mo read both We Are in a Book! and Knuffle Bunny Free. He answered questions from both kids and adults and was very funny and very gracious. Not to mention easy on the eyes!
One of the moms asked if he's "Daddy," which he translated to mean "are the Knuffle Bunny stories true." I loved his answer: "Everything in the Knuffle Bunny books is entirely true. Except the parts I made up." Mo's blog has some videos where he's talking about the process of creating the book, and he says "of the other Knuffle Bunny books, this is the one that is the least factual and yet the most true, I think that it's closest to capturing Trixie and my and my wife's sort of foibles and how we would deal with a situation such as this."
After the readings he signed books, and then was on to his next, and I believe last, location. Unfortunately the Knufffle Bunny Free book tour has now ended but he does tour fairly frequently and has 2 new books coming out early next year, another Elephant and Piggie and a new one about a girl and her stuffed alligator. If Mo is going to be at a location near you I highly recommend going to see him.
For more details about our fun evening with Mo, including pictures, head on over to my blog post.
Nancy may or may not have a small crush on Mo Willems. She blogs about her boys and life in Colorado at Life With My Boys.