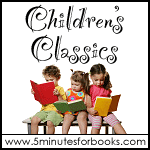 We're into the second half of our six-month exploration of award winning children's books, and I've been truly enjoying learning about some of the biggest names in honors. The American Library Association (ALA) recognizes distinguished books with several awards, one of which I'd like to call attention to this month.

Every year, the Coretta Scott King Book Awards honor African-American authors and illustrators of exemplary pieces of literature for children and young adults. Initially created by two school librarians who wished more African-American authors were recognized by national awards, the Coretta Scott King award became associated with the ALA twelve years after its inception. Awards are now presented to both authors and illustrators, and I'd like to highlight two books that my children and I have been enjoying.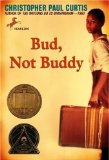 The 2000 Author Award Winner was Christopher Paul Curtis for his extraordinary middle grade novel Bud, Not Buddy. Holy cow, what an amazing book. My ten year old son read this over the summer, as it was included on a list of suggested summer reading, and he told me that I would probably like it, too. Upon starting the book, I was immediately drawn in by the protagonist's voice. Bud is a ten year old orphaned child in 1936, who has suffered at the hands of foster families enough times that he decides to "go on the lam." The few things he has of his mothers' he has carried around with him in a small suitcase every day since she died four years ago, and Bud is convinced that these items hold the secret to the identity of his father.
The story follows Bud's journey to find his father, depicting his experiences during the Depression in Michigan. Lines extending two city blocks for a meal at the Mission and police officers tearing down a "Hooverville" shantytown are just two representations of this time of suffering in our country. Bud meets with both cruelty and kindness at the hands of strangers, and his story is ultimately about finding one's place in the world. It's tender and touching, and Bud straddles the line of childhood innocence and awareness of the realities of the world, making him an engaging narrator and an extremely lovable character.
Not only was Bud, Not Buddy awarded with a Coretta Scott King Award, but was also the recipient of this long list of other honors: the Newbery Medal, ALA Notable Children's Book, ALA Best Book for Young Adults, International Reading Association Children's Book Award, School Library Journal Best Book of the Year, Publishers Weekly Best Book of the Year, New York Times Notable Book of the Year, Golden Kite Honor Plaque for Fiction, Texas Bluebonnet Award, Parents' Choice Story Book Award, AND eleven different state awards!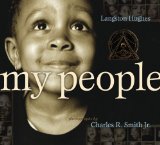 Langston Hughes' poem My People, became a picture book with photographs by Charles R. Smith Jr., and received the 2010 Coretta Scott King Illustrator Award. As explained at the end of the book, Smith gave much thought to how he would illustrate Hughes' short poem, wondering who the "people" would be in this book.
Langston wrote the poem to celebrate the pride he had for his black brothers and sisters in the late 1920s, when blacks were not acknowledged much in soceity. That helped answer one question: Only black people would be in the book, since they are who Langston celebrated. His words were not meant to dismiss other races; just to celebrate his own."
As a white mother to three white children, one might think I would overlook this book at first glance, but I would be missing a work of beauty. Hughes' poetry is so accessible to young children, and the photographs in this book are nothing short of amazing. We have indeed checked this book out several times before, and I predict it will make its way into our library bag many more times in the future.
Now it's your turn. What award winning children's books have you and yours been reading? Please link up with us below, or feel to share in the comments section.

Children's Classics Participants
Powered by… Mister Linky's Magical Widgets.
Check out our current giveaways. Subscribe to our feed. Follow us @5M4B on Twitter.
Dawn hasn't received many awards in her day (except for the coveted "Meanest Mommy in the World" title, more often than she'd like), but she is kind of a big deal on her blog, my thoughts exactly.