It's no secret that our family likes to read. My kids are both great readers, although they each have their own biases that limit their choices. Twelve-year-old Amanda loves fiction, and preferably something "exciting," which often leads her to fantasy and suspense books, whereas I am always challenging her to perhaps dip a toe into non-fiction to use all of those words as a chance to broaden her horizons. Six-year-old Kyle is a great reader, but he'd much rather play computer or watch TV than read a book. When he does read, he loves nonfiction books that have a lot on the page to catch his eye. His mind absorbs the facts that he reads, whether it's a book about Disney World or creepy crawly insects.
Can the books we read with our children really make a difference in their habits, such as encouraging them to make healthy eating choices?
I think that they can.
I first became involved with the Hidden Valley Ranch Love Your Veggies campaign a couple of years ago when I was approached as a book blogger to help spread the word about a picture book that drove home the idea that growing and eating veggies was fun and much better than only eating junk. The book was a limited time promotional offering, but Kyle still pulls it out and reads it. And he gets the idea. He'll ask me, "Is ____ healthy?"
Now don't get me wrong. Kyle is still more likely to crave a cupcake than a carrot (and sadly, so am I), but I think he eats a lot more fruits and vegetables than other kids his age. And because of the books that we've read that help reinforce the concept, he's not just hearing it from me. He's being exposed to it from other sources, usually in an appealing format. As a parent, anything that helps reinforce all my "blah blah blah" is a good thing.
The connection between kids growing vegetables and actually eating them is clear. In addition to these books that we've enjoyed, check out gardening expert Jeanne Pinsoff Nolan's thoughts about gardening with kids.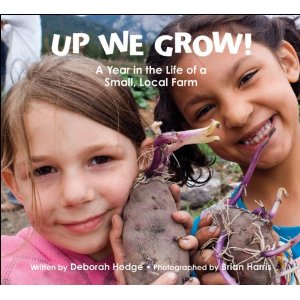 Last fall I reviewed Up We Grow: A Year in the Life of a Small, Local Farm. On the heels of a fun summer trip to an the Inn at Valley Farms in New Hampshire where we were able to see sustainable gardening and livestock raising, as well as eat the food that was produced right there, this book made us really appreciate the hard work that farming is and the delicious bounty that it produces.
Watch Me Grow! A Down to Earth Look at Growing Food in the City (linked to my review and a giveaway) is a follow up to that title, focusing not only on the types and places you might find gardens, but also the humanitarian ways people use what they grow.
Are there other books that you or your kids have found that help promote good habits, specifically in the realm of eating?
I, Jennifer Donovan, am pleased to be a Mom Panelist for the Hidden Valley Ranch Love Your Veggies campaign. They have provided me with information and I am under contract to share some of my experiences and tips, but my thoughts and opinions are completely my own.
Check out our current giveaways. Subscribe to our feed. Follow us @5M4B on Twitter or on Facebook.