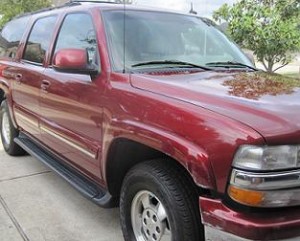 I love audiobooks. I probably have "read" at least 5 books with my ears each year ever since I got my first ipod four years ago (at least — this year I've already listened to more than that in the first quarter alone!). When the kids and I drove cross-country from Connecticut to Texas two years ago, we listened to A Wrinkle in Time (on cassette–actually read by Madeline L'Engle herself) as a family, and last summer we listened to Island of the Blue Dolphins, but in general, the books I hear are loaded on my ipod and mostly listened to when I'm at home doing chores.
But when I received In a Heartbeat, Sharing the Power of Cheerful Giving, my ipod was lost (stolen, I'm sure), and so I popped the first disc into my car dash when I was driving around one day to start listening. The Tuohy's story drew me right in, and because it's narrative made up of different vignettes of their lives, or reflections on their pasts, not a plot that I have to focus on, it worked really well to listen to in bits and chunks.
During this time, I was driving into Houston (alone, sans kids) once a week, and the 45 minute trip was a great opportunity to take in big chunks, but I also found myself snatching up tidbits on a 10-minute drive to the grocery store.
I'm not sure that I could use audiobooks in my car CD system in general, because I think I'd get lost, but it worked perfectly with this book (I have to admit that when I'm really into an audiobook on my ipod, I do have one earbud in while I'm driving and shopping etc).
For that reason, I think that this would be a perfect book for you to try, even if you haven't ever considered how audiobooks could fit into your life. Even if you don't have an ipod, or you have children around all the time and you like to listen to their chatter instead of plugging it up with earbuds as someone we know might do (cough cough), you could listen to In a Heartbeat, Sharing the Power of Cheerful Giving, either on your home CD player or in your car.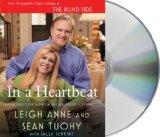 I also think it's completely family friendly, which would make it a good choice for a Spring Break or summer driving trip. The story is inspirational to all, and even when the Tuohy's are describing or quoting someone who uses foul language, the actual word in question is left out. My 6-year-old son Kyle was in the car when it was on sometimes, and he would laugh aloud at some of the situations described. He's a bit young to get it, but I didn't feel that it was inappropriate at all. I would say that if your child saw the Blind Side movie (linked to my review), then they'd definitely enjoy listening to the book, and most kids from about 4th grade on up probably wouldn't be totally bored.
In my efforts to convert all of you booklovers to the beauty of audiobooks (yes, I'm preaching now!), I'm happy to offer a giveaway of In a Heartbeat, Sharing the Power of Cheerful Giving. Click through and read my review, and if you decide that you'd like to win a 6-disc set, leave a comment on THIS POST. The giveaway is open to U.S. residents only. We'll announce the winner on April 13.
I know that some of you are as avid about audiobooks as I am. Tell me — when/how do you listen to audiobooks?
Jennifer Donovan is so pleased to be able to review books and audiobooks and movies and everything. She has an opinion and she loves sharing it. She blogs at Snapshot.