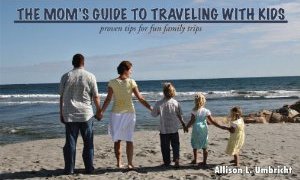 Starting with my 7 year old's first vacation to the Bahamas at the age of 5 months, our family has traveled pretty frequently. It's in both my husband's and my genes – I remember road trips from New Jersey to Hilton Head and Disney World (having relatives that lived in Orlando was wonderful luck), flights to California, visits to Maine with friends filled with lobsters, cold oceans and luggage lost on the Tappan Zee Bridge (not ours thankfully!). Before we had kids my husband and I traveled quite a bit, and we saw no reason to stop once the kids arrived. Alex has 16 states and 2 countries under his belt and we're currently planning our next road trip to Mount Rushmore and Yellowstone.
But for some parents, the thought of traveling with their kids evokes images of airport security nightmares, cramped hotel rooms, and a week full of stress instead of relaxation. It doesn't have to be that way, and The Mom's Guide to Traveling with Kids by travel agent and mom of 4 Allison Umbricht can help you plan that vacation you've been dreaming of.
Read my full review over at 5 Minutes for Mom, and enter to win a copy as well.
Please leave a comment on my post at 5 Minutes for Mom. I have a copy to give away to one of you (U.S. shipping only please). Leave a comment if you'd like to win. We'll announce the winner on April 11 in our book column at 5 Minutes for Mom.
COMMENTS ARE CLOSED HERE. Follow the link above to enter and to read my full review.
Nancy has visited 34 of the 50 US states and is already planning out how to get to the other 16. She writes about her 2 boys and life in Colorado at Life With My Boys.