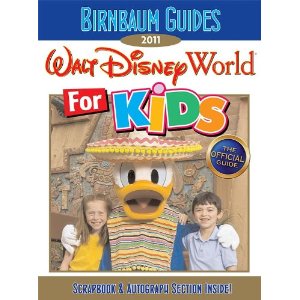 We've just returned home from a fabulous trip to Walt Disney World (aren't they all?), and Birnbaum's Walt Disney World For Kids 2011 was my 6 1/2 year old son's go-to companion.
This book was in our goodie bag when I checked in for the Disney Social Media Moms conference* last week.
Kyle loved browsing through this book in the evenings while we were at our hotel and in the mornings when his eyes popped open before the rest of ours did. The book is divided into sections organized by park and is full of eye-catching pictures, graphics, sidebar text boxes and more. Kyle spent a LOT of time reading this book and then sharing the facts he learned, such as which rides were ranked the highest by kids or why he shouldn't ever have to ride Space Mountain again (because even the book describes it as "dark and scary").
The book is completely portable, at 9 x 7 inches and 160 pages. It was lightweight enough to carry in the string bag we carried with a few snacks and a bottle of water. It has 19 pages for autographs in the back, and though we didn't wait in too many lines this year last year it was one of the things we enjoyed most, so I wish we had it then. This year he did get two autographs, and I like the fact that they are preserved in this book that he'd want to bring again ("
if
we ever go back," which has been our party line, lest the kids expect a trip every year).
I asked Kyle what he liked about this book and what other kids might like about it. He cited the autograph section, the information about Hidden Mickeys (a few tips on where to look on certain rides or in some areas of different parks), and "how it tells you about each ride."
In addition to Kyle's endorsement, I give it the mom-approved seal as well. Any book that has my highly proficient yet not-so-motivated boy choosing to read it over and over again at all times of the day gets my strong recommendation.
*Disclosure: As mentioned above, I received this book and many other products and services and perks which went above and beyond the conference fee I paid for the Disney Social Media Moms conference. My opinions are my own, and I was not told what to say or even that I had to say anything at all about my experience.
Stay tuned for more information about the conference and Disney books. For more information about my trip, please check out my blog:
Don't miss a thing: Subscribe to our feed or follow us @5M4B on Twitter or 5 Minutes for Books.com on Facebook. Check out our current giveaways.

Jennifer Donovan never thought she'd be a yearly Disney-goer, but she and her family treasure the Disney experiences they've had the last two years. She blogs about travel (when she can manage it) and more at Snapshot.