Batter up!
Little League practices have begun in our city, and the MLB players have been warming up with spring training for a little while now, so baseball fans are gearing up to get their game on. Whether the players are out on the field or not, young readers can prepare for the upcoming season with three new picture books from Sleeping Bear Press.

Starting with the youngest soon-to-be-baseball fans, Brad Herzog's Little Baseball board book, illustrated by Doug Bowles, presents ten different aspects of the game in rhyming riddle form. Give yourself a great big hand. It's where a batted ball might land. Why it's a baseball glove, of course! My own three year old has enjoyed looking through this cute book several times, and it's one that his big brother doesn't mind reading to him again and again.

For older kids with an eye for detail, Brad Herzog has another new release- I Spy with My Little Eye Baseball. Featuring two almost-identical photographs by David Milne, each two page spread asks readers to find anywhere from 15 to 41 differences between the two pictures. Some might jump off the page right away, while others require looking very closely. As an added bonus, each spread also shares a "fun fact" about the aspect of baseball depicted in each photograph, from info about the history of the Louisville Slugger to details about different types of pitches. Informative and fun, this book will get kids of all ages hyped for baseball season.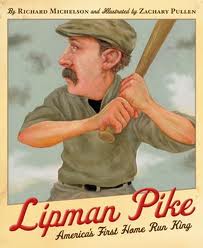 And finally, in the form that I believe Sleeping Bear Press does best, comes a nonfiction picture book about the beginnings of baseball in the mid 1800s and an immigrant's experience as one of the sport's first superstars. Lipman Pike: America's First Home Run King, written by Richard Michelson and gorgeously illustrated by Zachary Pullen, tells the personal story of Lip Pike, a boy who loved this newly organized sport called Base, and who was naturally gifted with amazing speed. But when he joined the National Association of Base Ball Players, he was met with discrimination at turns because of his Jewish heritage. He persevered out of love for the sport, and he proved his worth by leading the league in home runs, as well as by consistently conducting himself with respect and professionalism. He even proved to the world that the joke about him being "so fast he could outrun a racehorse" was indeed no joke- he did that very thing in 1873! Michelson's "Author's Note" at the end of the book provides even more information about the origins of America's favorite pastime.
Home run time! We have a copy of each of these fabulous baseball picture books, Little Baseball, I Spy with My Little Eye Baseball and Lipman Pike: America's First Home Run King for one lucky reader! Just leave a comment (U.S. addresses only, please), and we'll announce the winner on April 6.
Check out our current giveaways.
Don't miss a thing: Subscribe to our feed or follow us @5M4B on Twitter or 5 Minutes for Books.com on Facebook.
Dawn's tush will be sitting on uncomfortable bleachers a couple times a week once baseball season officially begins, and she'll probably be inspired to write about her son's Little League experiences once or twice over on her blog, my thoughts exactly.