January 1st brings with it a slew of resolutions, a day of football on TV, and a whole lot of diet program commercials during the breaks, but for the last five years, the first day of the year has had a special significance for lovers of children's and young adult literature– the announcement of the Cybils Awards finalists!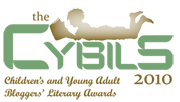 For the last two months, both Jennifer and I have been involved with the Cybils Awards as round one panelists, and we've been happily sharing many of the books that we've come across during this time. Now that the finalists have been chosen, our roles are complete and we get to anxiously await the announcements of the winners in February. But first, we'd like to remind you of some of our reviews of books that are among these worthy finalists.
This year, Jennifer was on a hot streak, with two of her nominations making the cut as finalists- Barbara Kerley's The Extraordinary Mark Twain (According To Susy) in the Nonfiction Picture Book category and

The Kneebone Boy by Ellen Potter in the Middle Grade Fiction group, a book she loved so much for its quirkiness when she reviewed it back in October that she gave it our highest honor, the 5 Star Reads label.
Another middle grade novel finalist to get Jennifer's 5 Star Reads honor is Rob Buyea's Because of Mr. Terupt, which she featured in a post entitled Middle Grade Novels with Heart.

Also featured in that post is another finalist, Milo: Sticky Notes and Brain Freeze by Alan Silberberg, a book that Jennifer recognized as fitting for children who have experienced the loss of a loved one, but universal enough in its humor and exploration of the power of friendship for anyone to enjoy.
For some additional middle grade fiction finalists that have the approval of both adults and kids, look to Stuart Gibbs' Belly Up, which Jennifer and her 12 year old daughter both loved.
Or you could try one that Jennifer adored, and my own ten year old son devoured earlier this year- Tom Angleberger's The Strange Case of Origami Yoda, hailed as perfect for "reluctant readers," but universally regarded as fabulous for all readers! One last middle grade finalist to recommend is Lisa Railsback's Betti on the High Wire, a book that I reviewed after falling in love with its main character and immediately shoving the book into my son's hands. (He loved it, too, of course!)
While none of my nominations made it to any finalist list (boo-hoo), I'm happy to say that I've been happy to have reviewed several of the books that were selected as finalists in the Fiction Picture Book category.

Bill Thomson's photographic-quality, but amazingly hand-drawn illustrations in Chalk are truly eye-popping. Flora's Very Windy Day by Jeanne Birdsall became beloved in my own household for its perfect depiction of big sister frustration ultimately trumped by big sister love.

Two fiction picture book finalists stood out to me early on as BIG on the humor factor- David Ezra Stein's Interrupting Chicken and Chris Barton's Shark vs. Train. Be prepared for many, many giggles with your little ones when you pick these books for story time, and don't be surprised when you find yourself laughing right along with them. I also have a special place in my heart for the kind and gentle main character of A Sick Day for Amos McGee, one that will be beloved for a long, long time.
For complete lists of the finalists across all eleven categories, please visit the Cybils website. Best wishes to all the round two judges, whose work is clearly cut out for them over the next few weeks. We'll be sending up big love for the winners, which will be announced on February 14th.
Reading and blogging are two of Dawn and Jennifer's shared hobbies. Get to know them better at Dawn's blog, my thoughts exactly, and Jennifer's blog, Snapshot.