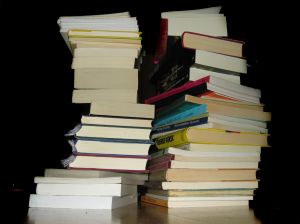 I like lists. That simple statement of just three little words has a great impact on every aspect of my life. I have to do lists (long term and short term), I have house project lists (never-ending), and I have book lists. I adore the ease of Shelfari, (even having written about it here before) and I use it to keep track of both the books that I've read as well as titles that I hear about that I hope to read someday. When I first began using it on January 1, 2008, I don't think I ever realized how obsessed with numbers I'd eventually become.
That first year saw me log in a very modest total of 31 books read, and I kept mini-reviews of each book in one post on my personal blog. By the beginning of the 2009, I was thrilled to become a part of the reviewing staff here at 5 Minutes for Books, and I happily expected my reading to increase. By year's end, I was only mildly frustrated that I was just one book short of a nice, easily remembered total of 75 books read. I thought to myself that if I could almost make it to 75, then why not up the stakes. You know what is a nice round, way easy-to-remember number? Why, 100, of course!
So I set the goal, knowing that meant just a little over eight books that needed to be completed each month. Pshaw. I could do eight books, no problem. Right? Well, some months, it did indeed seem that I could. For a couple of months, I was even ahead of the necessary pace. During the summer when some colossal home renovations were needed due to several shocking plumbing leaks, my husband went the DIY route while the kids and I got out of Dodge. Those two and a half weeks spent at my parents' house allowed for a lot more reading than I had expected, and I was happy to pass the six month mark ahead of schedule.
But then the fall came, and I began to think about the numbers a little too much. Sometimes when I reached for a book, I wondered if I was doing so to find enjoyment in those pages or simply to log in another number. Was I reading for the fulfillment that I had always found in words and stories, or was I simply trying to cross another title off my list? Had I actually figured out how to take the fun out of reading?
It was a rough end to the summer in our family, and the fall didn't prove to be much easier with the start of school and the full immersion into the preschool age for my two younger children. The last two months especially haven't allowed for a whole lot of relaxed reading time, unfortunately, and quite honestly, there have been times that I've felt myself not even wanting to curl up with a book. Another victim to the reading slump.
As the 2010 calendar dropped its last pages, I had to face an unmet goal. I never did make it to 100, you see. My number only got as high as 94 (or 95, if you count Mockingjay both times I read it this summer), but you know what? I think I'm over it. My 2010 list includes some classics I pushed myself to read (and surprisingly enjoyed!), a few incredible short story collections, some memoirs that inevitably made me appreciate my own humdrum life, a handful of middle-grade and YA novels that I shared with my oldest son, a couple of nonfiction books that truly made me think, and plenty of my favorites- contemporary novels with female protagonists who I grew to love as friends.
For me, perhaps the combination of my love for crossing off list items and my love for reading is just not a good one to make. While I'll still be keeping track of my readings, I don't feel compelled to carve a goal number in stone for 2011. This year will bring personal changes to my daily life later in the fall, and that will most likely bring "my numbers" down a bit for one thing. But really? I just want to read for the sake of reading, for the excited feeling I experience as my fingers just can't turn the page quickly enough.
I look forward to the joy I find in 2011's readings. Numbers, shmumbers.
Dawn's love for reading, her obsession with NPR, and the ups and downs of parenting three wacky kids are all chronicled on her blog, my thoughts exactly.