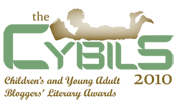 How about another round of fabulous Cybils Award nominees in the fiction picture book category? I'm still swimming in books here, and these are some that have stood out from the crowd for their remarkable illustrations.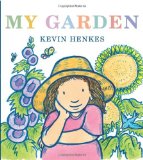 Kevin Henkes is a beloved author and illustrator, and with My Garden, he has created a book with beautifully soft illustrations that immediately conjure up feelings of Spring in bloom. The creative nature of this story of a girl who imagines a garden with chocolate rabbits matches perfectly with the pastel-colored images, created with watercolors and ink. Another must-have from Kevin Henkes! Jennifer reviewed My Garden this summer.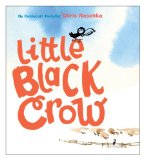 More watercolor illustrations grace the pages of Chris Raschka's Little Black Crow, although with a style of less defined lines and an even softer effect. The text is simple, with a young child as narrator asking questions of the little black crow that flutters across the pages. For anyone who has ever wondered about the lives of the birds high in the trees above them, this book presents those questions along with colorful paintings to admire.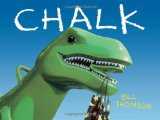 There is a note on the copyright page at the end of Bill Thomson's incredible book Chalk that I think should have been in HUGE text at the beginning of the book: "Bill Thomson embraced traditional painting techniques and meticulously painted each illustration by hand, using acrylic paint and colored pencils. His illustrations are not photographs or computer generated images." I had to reread this statement several times as I looked through the book, because the images are so unbelievably realistic and flawless. Looking at the tiny details left me breathless- the individual fly-away hairs on the children, the seams on their clothing, the textured skin of the dinosaur that comes to life- every single detail is literally amazing. This wordless story is full of adventure and surprise and will undoubtedly be loved by you and yours.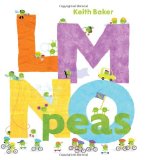 Finally, I'm a huge fan of LMNO Peas by Keith Baker. This alphabet book features small green peas doing jobs and activities representing each letter. The digitally rendered images are simply adorable, and my own children love finding all the different peas at work and play on the pages. Lauren reviewed LMNO Peas this summer, and she gives it another resounding approval!
If you're looking for more picture books that have been nominated this year, please visit the Fiction Picture Book page and browse the titles. The finalists will be announced on January 1, and I hope to share more from my growing pile in the coming weeks.
Check out our current giveaways. Subscribe to our feed. Follow us @5M4B on Twitter.
Dawn's fascination with picture books is indulged each and every day with her kids. Their adventures, bookish and not, can be found at my thoughts exactly.