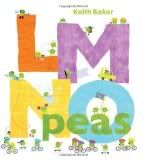 As a former elementary school teacher and a parent, I've seen lots of alphabet books. As we all know, alphabet books are a fun way to introduce the alphabet and encourage young children to interact with books. In his new book, LMNO Peas
, author Keith Baker presents the alphabet in such a fun way that it is sure to delight the preschool crowd.
As the title suggests, this book is about peas, and it is dedicated to "pea-ple everywhere–young and old, large and small, green and round." The adorable little peas "work and play in the ABCs." Each letter of the alphabet includes peas in different roles, like acrobats, artists, and astronauts or kickers, kayakers, and kings. The sing-song text makes a perfect read-aloud, and the whimsical, bright illustrations set on a white background are eye-catching and fun.
What I most appreciate about this book that it opens the door for great discussions. Like all alphabet books, you can use it for learning letters, but the author's use of so many professions and activities and the engaging illustrations pave the way for endless conversations. Children can find something new with each reading, making it a book that will be read again and again.
Books are for learning, but books for young children should also be fun. Keith Baker's LMNO Peas
provides education and enjoyment. If you have a preschooler, be sure to check out this entertaining book!
Lauren is a wife, a mother of two, and an avid reader. She thanks Simon and Schuster for the review copy of this book. Lauren blogs at Baseballs and Bows.