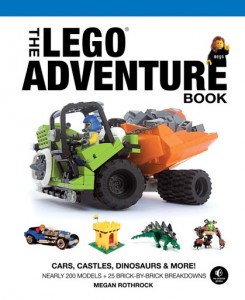 My son is used to books arriving on our doorstep for us to review. When a package is delivered there is only mild interest at this point. I knew The LEGO Adventure Book
was on its way to our home and thought this book might spark a little bit more excitement. Upon this book's arrival, I hid it behind my back and told him I had a surprise. "Books?" he asked, unimpressed. His expression changed considerably when I whipped this particular title out. His eyes went buggy and his mouth fell open. Silently, reverently, he took the book from me. I have permission to "borrow" it for the sole purpose of writing this review and then I am required through a solemn vow to return it to him promptly. Since receiving this book he has had no desire to leave the house. He has done nothing but sit and stare at these pages and play with Legos since its arrival.
The LEGO Adventure Book
, Vol. 1: Cars, Castles, Dinosaurs & More! is our family's first foray into the world of books about Legos. Judging from my son's reaction, it will not be our last either. It is a perfect start. Filled with glossy, full-colored photographs depicting buildings, dinosaurs , dragons, and trains this book is a feast for Lego lovin' eyes. There are twenty-five sets of "brick-by-brick breakdowns" so that you can learn how to put together some really amazing houses and dinosaurs in particular. I asked my son what his favorite thing about this book was and he replied, "there are a lot of robots."
The author of this book is Megan Rothrock and to guide us through the book is her Lego persona, "Megs." Megs appears all throughout the book holding conversation with the reader and other Lego figures alike. She is the figure shown assembling things from time to time – which I think is an awfully cute idea. The Lego models we see presented in this book were designed by a variety of individuals. For example, the Medieval Village pictured was designed by Aaron Andrews who is a professional music teacher. We are given the creators' names, some instructions and – best of all! – lots and lots (and lots!) of pictures.
The wonderful thing about Legos is that it is not just a kids toy. People of all ages can come together and design their own scenes and machines. These seem to be the enduring toy of childhood that holds up over time and can easily passed down to our own children. My brother and I had a huge Lego collection growing up. (He inherited them all, being that it was easier for him to pack them up and take them with him when he left home.) My family has had to build our own Lego collection and even my husband and I can really get into building with them. (My husband, Jonathan, is much more creative when it comes to original designs. I have to stick with a plan and an instruction manual!) We love that our oldest has finally come to the point of loving Legos himself. This is one toy that sparks imagination and creativity that we do not mind being scattered about the house! Turns out that they might be even more fun to play with when you have books like these to spur you on!

Another book that might be of interest to the Lego lover in your life is The Unofficial LEGO Builder's Guide
. The second edition of this book has recently been released in full color. (We had seen the first edition at the library once but the black and white nature was sort of off-putting and didn't draw my six year old in very well.) I would say that this book is above the head of our six year old but one that we will definitely keep around for the future. You'll be interested in this title when you are old enough to begin seriously designing your own Lego models. This book explains the how and why behind building Lego models, explaining the more technical aspects of Lego design, including how to build things to scale. An excellent book for the older Lego enthusiast.

Likewise, The Unofficial LEGO Technic Builder's Guide
is for older builders, discussing the more technical side of Lego building (as the title suggests). Think: gears, wheels, levers and some electronics. Those sorts of things. The author of the book, Pawet "Sariel" Kmiec is from Poland is a rather prolific model builder. You can check out his website, Sariel, to see some of his creations and to get a better feel for the book. I don't know that our family will ever get to this point in our Lego building careers but I wanted to toss this one out there for those of you who know of builders who find these sorts of projects fascinating!
Many thanks to No Starch Press ("the finest in geek entertainment") for providing copies of the above titles for my review in exchange for my honest thoughts.
Carrie blogs books that she loves, as well as books that her family find enjoyable, over at Reading to Know.