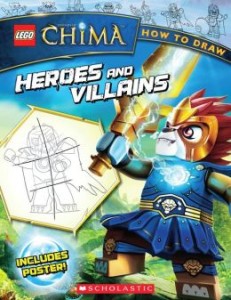 We are longtime LEGO fans at our house. It's pretty much a build it and they will come atmosphere for years. It started out with "plain old" LEGOs, but we've long since graduated to various character groups. Legends of Chima has been a particular favorite of late, and the wee ones love creating their own adventures with the characters. With LEGO Legends of Chima: How to Draw: Heroes and Villains, the wee ones have been able to add and create much more realistic versions of their favorites.
This book by Ron Zalme includes all their favorites from Gorzan the Gorilla to Eris the Eagle. The instructions for each character are broken down into steps that have foundation lines to help with scale as you're drawing. The additions to your sketch are shown in blue in each step with the previous steps in black to again help guide your creation. There are also written instructions for each step to help clarify it from "Add the details of Cragger's snout, focusing on his eyes and snout" to "Trace over your final lines with a felt-tip pen and erase the guidelines. Great job!" that are both helpful and empowering.
I am no artist, but I am impressed with what the wee ones have managed to create. Fortunately, the introduction to each character includes not just information about the character (for those of us who many not be as familiar with them as we should be, according to the wee ones) but also a one, two, or three LEGO dot to clarify the level of difficulty, and the easiest Chima figures are first in the book, which helps avoid frustration.
Before you start drawing, there is a brief introduction, as well, which is somewhat of a pep talk to again help make drawing a more positive experience that includes tools you need and how to get started. I love the message that using tools like rulers, circle guides and more aren't cheating but are needed to perfect your drawings. The same goes for a kneaded eraser, which won't smudge. I'd never heard of them before, but I am planning to buy some for homework, as well!
Written by Michelle who can't count how many times she's stepped on a LEGO piece here or there and is thrilled that the drawings aren't nearly so painful. See all the painful moments (and fortunately more) from her life on her blog Honest & Truly! or follow along with her on Twitter where she is also @HonestAndTruly.