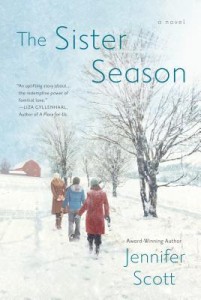 I read this book in a day as I sat in the passenger seat on a sunny cold day for our cross-country drive back home after spending Christmas with relatives. It had been a long time since I'd read women's fiction, since I was buried in middle grade fiction Cybils nominees for most of the fall and then picked up a couple of memoirs and an historical fiction novel after that.
I like women's fiction, and this book is a perfect reminder of why. It's full of issues relevant to women wrapped up in a moving story with cringeworthy family drama and a few laughs. There are always problems I can relate to, but honestly, it usually makes my own family drama pale in comparison, and that's a good thing!
The Sister Season opens with Elise decking the halls just before Christmas. She's using lots of tinsel, which she hadn't used for many years, because her husband hated it. But now he's gone, in fact his body is barely cold. The reader gets the sense that this isn't such a bad thing, and there are hints that there's something unusual about his death.
The funeral brings his daughters to the Missouri farm, together for the first time since a big rift 9 years before: Claire the free-spirit who fled to California when she was just 18 years old, Julia and her troubled teen son from Kansas City, and Julia and her two young kids from Chicago, where she's trying hard to live a perfect life.
As the novel progresses, the reader learns about the present struggles of each of the characters as well as snippets of the past that have contributed to who they are and why they have so much family drama.
The end was satisfying. I want some sort of resolution, though not necessarily tied up 100% in a neat bow. The characters all showed growth and change which is what makes this type of story satisfying and uplifting, even if it deals with heavy issues.