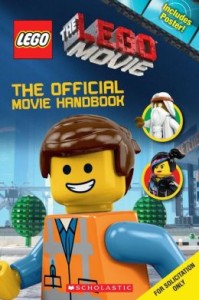 So yes, we're just a little excited about The LEGO Movie coming to the big screen in February. Minifigures have long been a favorite imagination building activity in our house as the wee ones build worlds around them and then act them out. Watching these toys come t life on the big screen is … exciting for them, to say the least. With The LEGO Movie: The Official Movie Handbook, all the information you want to know before going to see the movie.
The book is designed for younger readers than The LEGO Movie: Junior Novel but older kids would also enjoy this. It introduces the various characters in an almost graphic novel type concept. You get to meet Emmet Brickowski, the hero of the movie, along with the good guys from Batman to Wyldsyde and bad guys including Bad Cop and Lord Business.
The handbook includes plenty of almost snarky, though not mean, humor that I appreciated as an adult reading through it. Little call outs like Emmet saying, "So… everything isn't awesome? made me giggle.
The Official Handbook isn't laid out in a story format at all. Emmet helps walk us through his favorite place Bricksburg. Seeing the naive assumption that everything is awesome and following the rules to a T is perfection is quickly disturbed as Emmet's day turns strange when a glowing red brick attaches to his back and the adventure starts.
After the graphic novel introduction to the characters and locations, there is also a "sneak peek" at the movie itself with a six page synopsis of the movie, including plenty of still from the movie to help you envision it. This is a fun book and quick read that's another great way to get (even more) excited about the upcoming LEGO Movie.
Written by Michelle who loves when she finds kids' books that have humor she can also appreciate. See what else she finds funny on her blog Honest & Truly! or follow along with her on Twitter where she is also @HonestAndTruly.