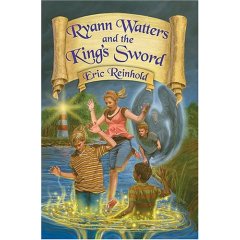 Ryan Watters And The King's Sword
(The Annals of Aeliana) is the first in a new series by author Eric Reinhold. Ryann has been specially chosen to fight off some dark forces in the first book. He, along with his friends Terell and Liddy are battling against Lord Ekron.
Reinhold's Christian faith comes through very strongly in this other world adventure series about young Ryann Waters. The series is based around Ephesians 6 which talks about the the sword, the shield of faith, etc. (Therefore it should be no surprise to those familiar with this particular scripture passage that the third book in this series will be entitled Ryann Watters and the Belt of Truth!)
There are magical creatures. Mysterious adventures. Danger and intrigue and always a strong reference to doing what it is right.
As an adult I found it hard to get into this series. However, knowing the types of books that I loved reading as I was growing up, I know that I would be absolutely enthralled by this series were I 10-12 years of age. I finished reading both Ryan Watters And The King's Sword
and its sequel, Ryann Watters and the Shield of Faith
and speculated that this book would be perfect for more conservative readers around the age of ten who really like a good adventure story (even better if they prefer a magical feel to their stories)! Upon completing my reading I came across a review of these books linked to our Kids' Picks carnival from a certain young 10 year old who found these books to be thrilling and entertaining. Bingo! My assumptions proved correct, I think that they can be best recommended to that age bracket.
Readers more familiar with books like The Lord of the Rings or the Chronicles of Narnia will find familiar themes within these books by Reinhold. Unicorns, elves, dwarfs, maps of mythical lands and the list goes on and on. An imaginative reader will have much to grab hold of. However, the Annals of Aeliana are more straightforward in their Christian message than their two counterparts. It's harder to miss the allegory involved, making it easier for a ten year old to grab hold of.
The author of this series has graciously offered to give away three sets of the first two books in this series, Ryan Watters And The King's Sword
and the sequel, the Shield of Faith
to our readers. THREE of you will have a chance to win. Just leave a comment below! (U.S. Residents only, please.) We'll announce the winners in our July 1 giveaway post.
Enter our other current giveaways (including our three Father's Day giveaways). Subscribe to our feed. Follow us @5M4B on Twitter.
Carrie comes by her book obsession honestly, having descended from a long line of bibliophiles. She blogs about books regularly at Reading to Know.