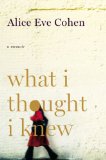 Brutally honest. There's no other way to describe Alice Eve Cohen's tone in her memoir What I Thought I Knew. In addition, she's witty, introspective, and emotionally expressive, but everything comes together because of her brutal honesty.
In what could be described as the 'Second Act,' Cohen realizes that she's finally happy in all aspects of her life- career, parenthood, and personal relationships. After years of struggling with infertility, she and her (now ex-)husband had been fortunate enough to be present at the birth of their adopted daughter. Now divorced, she is in love with a man ten years her junior, who is more than content to be her partner in raising her child. In hindsight, Cohen humorously reflects on the Jewish folklore that the Evil Eye is tempted by those relishing in their good fortune, as the next chapter of her life is soon to be fraught with confusion, doubt, fear and challenges on a scale that most people cannot even imagine.
As a result of some unexplainable health changes and even more unbelievable medical errors, Cohen soon discovers that she is certainly no longer infertile as she is actually six months pregnant. Six months of zero prenatal care is one major issue, but even worse, those six months had her continuing to take a prescribed hormone treatment that could seriously impact the development of her fetus. I feel it's important to point out that Cohen didn't spend six months in a self-delusional state, but actively sought out medical treatment for the mysterious symptoms she was experienced– symptoms that for many women would immediately bring to mind pregnancy, but remained confusing for someone who has been diagnosed as infertile for so long.
The heart of the memoir raises questions that spark immediate controversy, ethically, morally and legally, but ones that are immediate and more than simply hypothetical for Cohen. She doesn't hold back in expressing her feelings about this experience, and I don't doubt that some readers will take offense at some of her considerations. Wherever one falls on the "pro-choice" to "pro-life" spectrum, I would hope that one could appreciate Alice Eve Cohen's honesty in telling her story. Goodness knows I personally would never want to question any feeling she experienced or option she pursued (or even thought to pursue), because her story is so extremely fraught with complications. It seems as if she just kept hitting every worst-case-scenario wall there was in her VERY surprising pregnancy experience, making her situation as far from typical as possible.
Cohen's writing comes off as 'fast'- as if she's breathlessly telling the reader her story, with a fervor in her tone that demonstrates the magnitude of it all. I respected the fact that she didn't white-wash anything- not her conflicts with her partner nor her own internal conflicts. What I Thought I Knew is a brave book that doesn't make for comfortable reading, but honors one woman's remarkable experience.
Books and blogs are two of Dawn's favorite b-words. You can read more of her ramblings at my thoughts exactly.