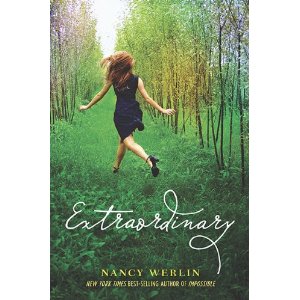 Apparently there's a whole world of faerie culture and lore out there. I had not heard a thing about it until I read The Iron King. I was glad I had that thorough background when I read Extraordinary by Nancy Werlin. It's all there — glamour, truth, good versus evil, decay.
This story feels different from other fantasy books I've read. Werlin does not spend a lot of time explaining the faerie culture, and so it just seems to be a different setting — like New York or Regency England or a private boarding school.
When you are a teenage girl, there's nothing that affects you more than your friendships. Well, maybe boys. . . .
Extraordinary follows two girls, Phoebe and Mallory, from the time that Phoebe first reaches out to Mallory the new girl when they are in middle school. We quickly fast-forward to their senior year in high school. Things have changed. The balance of their friendship is different, their relationship is different, and when Mallory's older brother suddenly shows up, things become even more complicated.
I love stories of friendship and choices, and when I heard that Werlin was inspired to write this story by the musical Wicked, and specifically the song "For Good," I knew I had to read it.
Extraordinary also features a Jewish protagonist, which I don't come across that often in literature (and the theme becomes relevant to the rest of the story as well).
Content Note: This is a fairly tame YA offering. There was no profanity that I remembered or drinking or drugs. There was a mention of sexual activity, but it was in the context of someone who couldn't go through with it.
We have a copy to give away to one of you! Please leave a comment if you'd like to win this for yourself or your favorite teen. The giveaway is closed.
We'll announce the winner on October 13.
Check out our current giveaways, subscribe to our feed, and/or follow us @5M4B on Twitter.
Jennifer Donovan isn't sure if she'd classify herself (or her blog Snapshot) as Extraordinary, but Ordinary doesn't quite fit either.