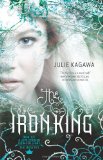 I've just spent an enjoyable few days with Julie Kagawa's The Iron King.
Her inventive fey (faery) world pulled me right in. It's one of those imagined worlds that has you amazed at the detail and the thought that went in behind it. This book seems to be marketed to girls (from the cover and the fact that it's published by Harlequin Teen), but I think that this book would appeal to young men or women who are interested in fantasy. In fact, there's a good bit of battle, which was one of the factors that reminded me a lot of The Lord of the Rings.
While we are on the subject of the publisher, don't let the "Harlequin" label fool you. Just as you probably did if you haven't read Harlequin lately, or checked out Harlequin Teen, I thought of bodice-ripping heroes and smarmy love stories, but this is not your mother's Harlequin! This is very fast-paced, modern, and original teen fiction.
To make another comparison, I've heard that a lot of moms of teen girls are looking for a series with a strong heroine (in contrast to the lovelorn and Bella from Twilight). May I introduce Meghan Chase? At least so far, she's a strong heroine. Not perfect, not always wise or always using her head, but the whole reason that she is on this mission is to selflessly risk her life to save her four-year-old brother's.
This is a fantasy adventure that will also appeal to fans of dystopian fiction, because the faery land has fallen into disrepair because of the harmful effects of iron in the world that the Iron King is using against them. It's suspenseful, imaginative, and a little bit scary as well.
Find out more about the author at Julie Kagawa.com and more about the series at the Iron Fey site. While you're there, you can read the first three chapters of The Iron King, and download the novella Winter's Passage (also available on your Kindle at amazon), which bridges the first novel to the second, The Iron Daughter (August 2010).
Are you intrigued?
We have a great prize package (U.S. shipping addresses only):
One reader will receive a $25 Visa Gift Card and an autographed copy of The Iron King
Three Runners up will receive a copy of The Iron King
Leave a comment if you would like to win. We'll announce the winners on July 7.This giveaway is now closed.

Jennifer Donovan has a fantasy-loving 11-year-old daughter, and a non-fiction reading 6-year-old son. She blogs about their life in Connecticut at Snapshot.