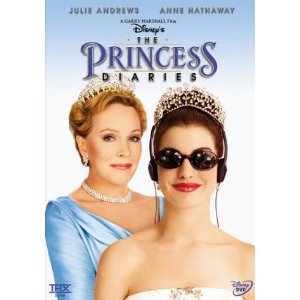 When a book is made into a movie, I often insist on reading the book first. I just have this feeling that the book is the real thing, and I ought to know it before I see the film. Of course, for this to work, I have to know there's a book.
You see way back when The Princess Diaries made it to the big screen, I'd never even heard of author Meg Cabot – a fact that shocks me a bit in retrospect. So the only version I knew was the adorable movie with Anne Hathaway and Julie Andrews. Gawky, frizzy-haired, bushy-eyebrowed outsider Mia (Hathaway) lives with her mother and her fat cat in scenic San Francisco. Mia attends private school with her quirky best friend Lily (Heather Matarazzo) and dreams of being kissed by the school dreamboat. Her life gets turned upside-down when her grandmother (Andrews) suddenly enters her life for the first time with important news – Mia is the sole heir to the crown of Genovia, a true princess. Of course, this requires extensive training and a makeover all of which comprise some of the best scenes in the movie. Hathaway and Andrews are completely delightful. The teen angst is believable plus, as in any good Disney movie, Mia learns a lot about herself and even finds out what to look for in a real prince charming. The movie is rated G and is a great movie for mothers and daughters or families to enjoy together.
The original, the book, is something quite different. Meg Cabot's book has bite. It is not at all intended for the same audience that fell in love with the movie. Rather, it is filled with content that is best saved for more mature teen audiences. Set in edgier New York City, the book contains some swear words, such as "d*mn" and "a**." While the movie includes a few kisses, the book contains a discussion of sex, virginity and contraception as well as some kissing. There are a few references to drug use, and the book also contains underage drinking. Although these things are sometimes a part of teen life, it's certainly something parents would want to know about, particularly since the movie appeals to a much wider audience, including young girls.
Also, regardless of whether you've seen the movie first or read the book first, be prepared because some of your favorite characters are quite different. Hector Elizondo fans will be sad to know that his character (Joe) exists only in the movie. Mia's father, on the other hand, killed off movie purposes, is very much alive and a large part of the book; his lack of an heir is blamed not on his untimely death but rather on a bout of testicular cancer that left him sterile. Mia's queenly grandmother, played by the inimitable Julie Andrews, is quite different in the book. Unless of course, Julie Andrews is the first person who pops into your mind when you're reading about a cigarette smoking, Sidecar swilling old lady who wears see-through negligees and tells her granddaughter she looks like a hooker. Also when Princess Mia gets a blonde pixie cut, it's pretty hard to make over your image of Anne Hathaway to suit.
So although the basic premise is the same, the book and the movie are very different when it comes down to the details. I think both have their upsides, but lovers of the movie should take care before handing the book to any little girl who's fallen for the story of Princess Mia.
Guest contributor Mrs. N has been teaching elementary school for 8 years and can't seem to stop reading children's books, and can't help pondering the content. From positive role models to racist slurs, from fabulous read alouds for little ones to books best saved for more mature teens, she'll tell you what's really happening inside your child's books at Between These Pages.