Remember I mentioned that in addition to being Wordless, we'd go for Winning on Wednesdays as well?

Each Wednesday we will announce the week's winners as well as offering up a special giveaway (there will probably be others throughout the week, but on Wednesdays, you can count on it). So before we get to the new giveaway, here are the winners from last week:

Love as a Way of Life — #6 Lisa (Morning Rose) and #9 Joy Glover

Begin Smart Books — 0 – 6 months: Jennifer Bogart, 6 – 12 months: Elizabeth , 12 – 18 months: Amy (Occupation Mommy), 18 – 24 months: D
Brighter Minds has created a new series of learning workbooks with the 30 Minutes a Day series. There's a brand-new website with some related printables and games, as well as suggestions to the caregiver of ways to extend the learning into everyday life.
I love learning workbook, not because I'm some hyper-competitive parent, but because anything that will occupy my children for a few minutes gets my vote (especially something that isn't dependent on a screen).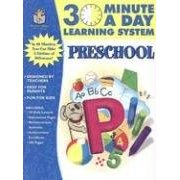 I've bought my fair share of learning workbooks and sticker workbooks. Some are better than others at seeming like an activity not work and at avoiding unnecessary repetition, which can become boring. Kyle (who just turned 4) and I have enjoyed the 30 Minutes a Day: Preschool workbook.
Each workbook is divided into 50 chapters. The chapter has two subjects, one related to reading and one to math. In the case of the preschool workbook it's letters and numbers for the most part. Each of the chapters is a topic lesson meant to be completed in about 30 minutes. The preschool workbook would be perfect for a child entering Kindergarten or who is in Kindergarten to use as an easy reenforcement at home. If you have a 4-year-old like mine who is already familiar with numbers and letters, and ready to begin some writing and sorting, he can work through it at his own pace.
Other books in the series include 30 Minutes a Day: Kindergarten and
30 Minutes a Day: 1st Grade. These would be great to use to get your child back in the groove before school starts, or as enrichment for a child who is not challenged in school, or for extra help as needed. I think that any of these would be a great homeschooling resource as well.
The Kindergarten workbook starts with writing and number order, and progresses through phonics (beginning and ending sounds and then on to word families) and number sequencing up through 100.
The 1st Grade book starts with a review of alphabetic order and number sequencing and progresses to writing sentences and reading comprehension, and addition and subtraction.
Five of you will win the title of your choice. Leave a comment on this post, and we'll draw the winners on July 30. The giveaway is closed.
Jennifer Donovan blogs at Snapshot and also writes for 5 Minutes for Mom.