Gary Chapman's excellent book The Five Love Languages examines the way that we give and receive love. Looking at the possibly fallacies behind my perception about how others are expressing their love towards me or their need for love from me absolutely changed the way I view my relationships–with my husband, my children, and even my friends.
At one of the conferences he holds around the country, a husband who found out his wife's love language was Acts of Service said defiantly, "If it is going to take washing dishes, vacuuming floors, and doing the laundry for my wife to feel loved, you can forget it." Gary Chapman observed that "He had the knowledge of love but not the attitude of love" (page 5). It surprised him that people would know how to love, and yet choose not to show love.
His new book Love as a Way of Life is written to show us how to love those around us effectively. In it, he offers seven traits that are the foundation for every language of love (including among others, kindness, patience and courtesy). Each chapter begins with a tool that helps the reader assess his or her strengths or weaknesses in the area, and then provide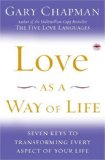 s guidance throughout about habits to acquire which can make that personality trait become a reality for you. These practical suggestions are simple, yet inspiring.
Each chapter closes with three additional ways to make it personal:
asking what would your relationship be like if you took some of these practical steps to love
giving several questions for discussions and reflection
suggesting several actions you can take to apply this in your life
In addition to devoting a chapter to each of these seven traits, Chapman addresses making a love a way of life in situations that might be difficult to put others first–parenting, marriage, and the workplace– devoting a chapter to each of these relationships.
If you haven't yet read a The Five Love Languages, I would ask why haven't you read that groundbreaking and life-changing book? However, it is not necessary to read it in order to understand these concepts.
Love as a Way of Life releases on Tuesday, July 15. It's my opinion that people who are seeking to show love to others will consider this a must-read book that will earn a permanent spot on their bookshelves. This is a "Christian book," but he focuses more on relationships with people than a relationship with Jesus, so I think it would be appealing to anyone looking to love and serve others in their lives.
I have two copies to give away (U.S. shipping addresses only). If you'd like to win a copy, tell me why in the comments. I'll post the winners on Wednesday, July 23.
Five Minutes for Books reviewer Melissa has also reviewed this book (with another giveaway) on her personal blog, Breath of Life, so click on over and check out her thoughts as well.
Jennifer is a contributing editor at 5 Minutes for Mom, where she also authors the 5 Minutes for Books column. She has been blogging at Snapshot for over two years. You'll almost always find her holding on to either a book, a fork, a child's hand, her laptop, or some combination therein.