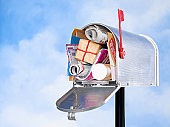 The Printed Page invites bloggers to share what books have come into their house each week. You don't have to be a book blogger — just a reader. You can share books that you received as gifts (as I did below), that you ordered for yourself, or that you received for review. Keep reading to see what we received, and check out the other Mailbox Monday participants at The Printed Page.
But beware, just like our What's on Your Nightstand carnival that takes place tomorrow (and the 4th Tuesday of each month), Mailbox Monday can lead to envy, toppling TBR piles, and humongous wish lists.
CARRIE
A review copy of Accidental Cowgirl: Six Cows, No Horse and No Clue arrived this past week. I'll be participating in a book tour featuring this title, which captured my imagination and I'm really looking forward to it.

I was excited to see Dietrich Bonhoeffer 1906-1945: Martyr, Thinker, Man of Resistance arrive in my mailbox. I had read the new Bonhoeffer biography by Metaxas earlier in the year (click on that title to read my review) and LOVED it. It definitely whetted my appetite to learn more about this extremely interesting man so I'm looking forward to diving in to that one! Since I indulged you guys in a Bonhoeffer title around these parts already, I"ll likely review this new one over at Reading to Know. So keep a lookout over there if you are interested!
JENNIFER
Of Bees and Mist: A Novel by Erick Setaiwan — This book arrived quickly after I requested it last week, and I'm absolutely not sure what to think of it. It's what I call a genre-buster. I love it when books totally surprise me as the other genre-buster I read did. I think that this one either won't work for me, or I'll love it. Anyone read it?
Kyle (6) had a birthday party this week, and a few new books came into our house that way. His favorite that we've already read more than once is Never Take a Shark to the Dentist: and Other Things Not to Do.
I bought him a few of Mo Willems' Elephant and Piggie books for an upcoming road trip (using amazon's buy 3 get one free promotion, which is awesome!). We "discovered" them last year, and they had the perfect level of silly and simple for him. Though he's quite a good reader now, he isn't ready (or willing) to sit and read a long book. But he will read Elephant and Piggie, so it's a good way to spend my book bucks. I buy hardbacks in these, and they are definitely ones that will end up in the "save for the grandchildren" box.
Most of the other books that have come into my house this week have been via NetGalley. I'm stocking up my Kindle for my month of e-reading self-challenge. There are a few that I'm really excited about:
Annexed comes out in October from Houghton Mifflin books for Children. It's a YA title that looks at Anne Frank's story from Peter's perspective.
Foreign Bodies by Cynthia Ozick is supposed to be a sort of mirror image of Henry James' The Ambassadors, so perhaps I'll read it as well for our Classics Bookclub before the November release date. But Henry James? Seems a little weighty. Any thoughts on this idea?
I downloaded The Genius Wars from NetGalley this week. It's the 3rd in a series, and releases in August. My 11-year-old daughter got Catherine Jinks' Evil Genius and Genius Squad from the library for our driving trip. I'm hoping she'll fill in any gaps for me, and I'll just read/review the 3rd one, but it seems like a great series for kids.

Each Tuesday we have a different meme that you join in, from Kids' Picks to What's on Your Nightstand, to a Children's Classics challenge. Join Us!
Check out our current giveaways. Subscribe to our feed. Follow us @5M4B on Twitter.