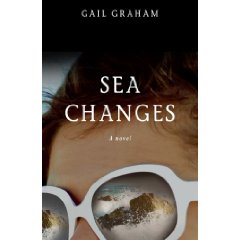 Sea Changes by Gail Graham is one of those books that is not adequately represented by a short description.
A couple of years after losing her husband, Sarah is still aimless. She has moved into a smaller, more affordable house. Her daughter, while generally unsympathetic, is trying to encourage her to move on. Sarah doesn't see an end to her troubles, and so she decides to swim out to sea and never come back. However, when she dives down, planning to drown, she ends up being guided down deeper by a sort of mermaid named Bantryd who introduces her to Xaxanader, the leader of this highly evolved under sea world. Sarah survived because she's one of the few remaining vestigants — humans who can breathe under water.
See what I mean??

But this really isn't classic fantasy. Yes, there are obviously elements and plot lines right out of the fantasy genre, but at the heart this is a story about a mother and a daughter, a woman looking for a second chance (and as an interesting setting, an American woman who has lived in Australia for many years).
Sarah ends up having to choose — her real life, versus the fantasy life under the sea which makes her feel safe and secure. But as the book progresses, the reader wonders "Is it real?" When Sarah is linked to a missing heiress, her recent peculiar behavior testifies against her innocence, and once again the reader asks "Is everything as it seems? Can it be as it seems?"
Fantasy, Who Done It, Relationships, Exotic Setting — Sea Changes is a great genre-buster. If you like any of these genres, I'd recommend you giving Gail Graham's latest novel a try.

Managing Editor Jennifer Donovan also blogs at Snapshot about life with her tween daughter and preschool son.