I've been a fan of audiobooks ever since I got my ipod and began downloading books. I have been thrilled with the audiobooks that Macmillan Young Listeners sent me so that I could share this new way of enjoying books with the whole family.
Our favorite by far, that I highly recommend for a gift, is The Cricket in Times Square, that I reviewed HERE last summer. It's one of those books from my childhood that Amanda also enjoyed, and the audio version is really delightful, artfully recorded by Tony Shalhoub.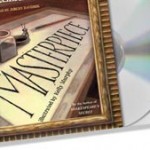 Masterpiece is a pretty good story by Elise Broach (coincidentally a bit similar — featuring a cockroach instead of a cricket) involving an art heist and a boy trying to figure it out. Amanda enjoyed it, but I did not find this audio recording to be especially compelling. I'm a bit of an audiobook snob in this way. I can read, so I don't need a nondescript voice reading aloud. Most sites (including MacMilian) offer clips of the audio, and I recommend that you listen before buying.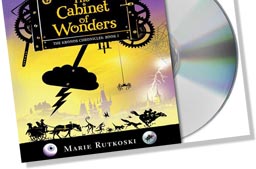 The Cabinet of Wonders is the first book in the Kronos chronicles. THIS book captured Amanda's interest — both the story and the audio recording. Of course, it's the kind of book that she likes: imaginative fantasy. She can't wait to hear — or read — the second in the series.
For younger children, you can't go wrong with James Herriot's Treasury for Children: Warm and Joyful Animal Tales. The audiobook is recorded by Jim Dale (who also recorded the Harry Potter books), and this recording DOES lend something. It puts you, the listener, right there in those country barns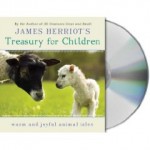 and pastures with the good vet. I think that this would make a fantastic gift (packaged with the book even) for a young listener, age five to eight, or a great family gift that could appeal to a wide range of ages.
Another collection that will appeal to a wide age range are the short stories of William Steig, including the The One and Only Shrek! (yes, that Shrek). These recordings by Stanley Tucci and Meryl Streep (yes, that Meryl Streep) are fabulous and fun.
For even younger listeners — babies up to three — the recording of It's Time to Sleep my Love and On the Night you Were Born is sweet and soothing.
As I said in our Christmas Gift Recommendations post, I think that giving audiobooks is a great way to share books, but in a slightly more exciting way, both for the booklover and the reluctant reader.
Managing Editor Jennifer Donovan is a contributing editor at 5 Minutes for Mom. She blogs at Snapshot about daily life with her tween daughter and preschool son.