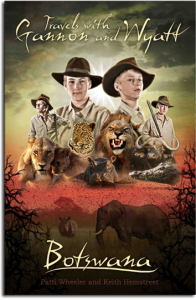 I mentioned in my post after BEA that I picked up a copy of Travels with Gannon and Wyatt: Botswana
(which releases in June of this year) at their booth. I spoke with their mother, and the author of this book, Patti Wheeler at the Expo and was sold on the concept in very short order. It is now my pleasure to introduce Gannon and Wyatt to you!
The concept behind the book is this: Gannon and Wyatt are twin fifteen-year old boys that explore the world with their parents. (They are homeschooled which makes such travels a possibility.) They research various areas of the globe and travel together as a family. Each of the boys spend their morning doing "math and stuff" and then their afternoon is taken up with explorations of the world around them. In the evening the boys take time to write in their travel journals (and that, my friends, is their English lesson!)
Their mother, Patti Wheeler, is an engaging woman in her own right. What she has done with this book series is to take the travel journals and information gathered during research (i.e., photographs, video footage, etc.) and created a fictionalized tale of their journey, incorporating aspects of it and expanding a bit on their tale.
As I was talking to Patti, she explained that their goal with this book series (which begins with the book on Botswana
and shall soon be followed by additional titles, the next being Great Bear Rainforest) is to encourage a love of travel in the youth of today. The goal of the book is to open the world to younger readers and encourage them to explore the world for themselves. In fact, an organization which is heavily prompted in the Wheeler boy's tale is the Youth Exploration Society.
As for the book itself, I found Travels with Gannon and Wyatt: Botswana
to be imaginative and engaging. It reads like a positive adventure story with lots of geographical facts thrown in so the reader is picking up information on the country or continent in focus.
I was particularly struck by two things:
The Wheeler family strikes me as a "typical" homeschool family who thinks outside of the box. Their freedom and flexibility in homeschooling allows them to engage in this travels which most people have to crunch into their summer schedule (IF they are thinking of going to Botswana at all!) As a homeschooler myself, I appreciated the statement that Gannon made in his introduction to the book when he said:


"You might be wondering whether I miss being in a real school. Well, I have an answer. Undeniably, undoubtedly, emphatically and without hesitation, "no." I like my classroom overlooking a lagoon in Bora Bora, thank you . . . or on the deck of a log cabin in Alaska . . ." (page 12)

That's exactly how I felt growing up. I never felt like I was missing out on school. I enjoyed the opportunities that I was able to engage with because I wasn't locked into a typical schedule.

Let me also be very clear that this book is not a treatise for homeschooling. It is, however, an adventure story made possible due to a flexible schedule that homeschooling offers. That part especially appealed to me.

The Wheeler family makes things seem possible that previously felt out-of-reach. I think this book and the series is going to have huge appeal to younger readers who feel like the world is an open door of possibilities. Travels with Gannon and Wyatt: Botswana is motivational in making the reader think that anything is possible. Do you want to travel? They'd say: find a way to do it! It may be more possible than you initially think. (In some senses, it reminded me of Do Hard Things. Gannon & Wyatt are doing big, hard things that most teenagers are not doing and that makes their story intriguing to be sure!)
I really loved this book and the accompanying video which explains more of their journey in Botswana. As happy as I am to introduce you to it, I'm ecstatic to say that I have THREE copies to give away to some 5 Minutes for Books readers! Would you like to win a copy to share with your young, imaginative and free reader?
Do leave a comment then! We'll announce the winners on July 7.
And even if you don't win – I sure hope you'll check out this book. I think it holds a great deal of potential to change the way we view the world. To learn more about Gannon, Wyatt, their book and adventures, visit their website at http://www.travelswithgannonandwyatt.com/
If you'd like to learn more about the Wheeler family's fascinating travel background which led to this book series, visit Reading to Know to read my interview with Patti Wheeler.
Carrie comes by her book obsession honestly, having descended from a long line of bibliophiles. She blogs about books regularly at Reading to Know.