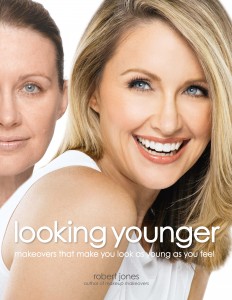 I'm back with another beauty guide for your consideration! I know they all start to sound alike, but I find new tips and tricks to try in every book I read. I'm going to share a few with you from my latest read: Looking Younger
by Robert Jones.
This book is chock full of gorgeous full-page before and after photos. They're my favorite part. Jones says his goal in writing this book is to help women understand the fine details of makeup and its application. I would say that this is probably not a book for the makeup novice. As much as I enjoyed it, I found myself often thinking that many of his techniques were quite time consuming, to say nothing of cost-prohibitive. Like applying three shades of foundation? Uh yeah no.
But there were also lots of tricks that I've been implementing. Such as his mascara application techniques.
1. He says to apply two to three coats of mascara, and let your lashes dry completely between coats. I've always applied two to three coats of mascara, but I'm learning that it works much better if I let it dry between coats. I know, it sounds obvious, but I wasn't doing that before, and I am LOVING the results!
2. When you apply the mascara with the wand in a horizontal position, you are thickening your lashes. When you use the tip of the wand and apply with it in the vertical position, you are lengthening your lashes. You can do it both ways (in separate coats, of course) for the maximum WOW effect. I am doing this now, and the difference is noticeable. Well, to me, anyway.
He also has some great tips for applying eyeliner.
1. Lining the lower lash line is optional, but if you choose to line the lower lash line, the liner on the upper lash line should always be thicker. Without the proper balance, you will look older and tired. Same with color. The color on top should be deeper than the color on the bottom. For a softer look, try eyeshadow in lieu of eyeliner on the bottom.
2. Along the top lash line, the definition should start at the inner corner, and it should be thinnest there, becoming wider as you apply it across to the outside corner of the eye. This is hard (for me, anyway) to achieve. I tend to keep it the same thickness all the way across. But I've been practicing and it really does make a big difference. Likewise, on the bottom, you want to bring the color all the way across to the inside corner, but the color should be most intense at the outside corner. The same thickness all the way across can close in the eyes and make them appear smaller.
3. Be sure to place color as close to the lash line as possible. He even takes black or another dark shade of eyeshadow and, using a brush, smudges it right into the lash line. Sometimes I do this when I'm taking extra care with my makeup routine, and it looks oh-so-glam!
There are tips for cheeks and lips and skin and at the end, he takes a step-by-step look with pictures of one woman getting ready from start to finish. It really is a fun book.
I was joking with my husband the other day that every beauty book I read adds 5 minutes to my makeup routine. And that's probably not an exaggeration! I used to be pretty low-maintenance about getting ready in the morning, but the more I learn, the more steps it takes to get ready.
I guess the real question is, is it worth it? You decide!
BEFORE Robert Jones: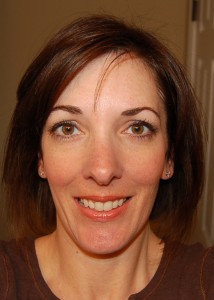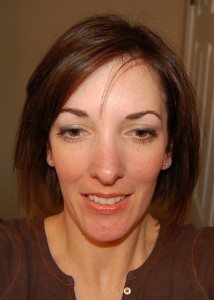 AFTER Robert Jones: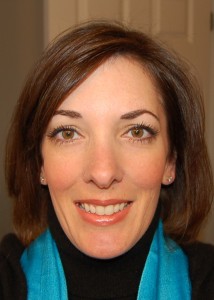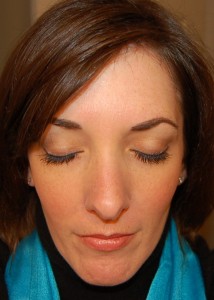 I wish I had the proper lighting to get really good shots of makeup application. Maybe I should put that on my Christmas list!
WIN IT! To enter a giveaway to win a copy of your very own, come on over to Chic Critique and leave a comment. I'll see you there!