My husband and I are currently pursuing an international adoption and so I am jumping at opportunities to read books about adoption. There is so much to learn about adoption and there are plenty of opportunities to learn and to grow! I'm grateful for the multiple resources available to couples considering any type of adoption. Some resources are better than others, but there is something to learn, generally speaking, in all. Here are a few that I have found.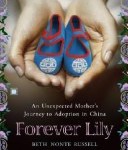 Forever Lily is more of a tragic adoption tale in my opinion. It is the true story of an unexpected adoption. When Beth Nonte Russell accompanied her friend to China she only planned on exploring another culture in an attempt to learn more about herself. Her friend had asked her to come to China with her when she traveled over to adopt her daughter. During the entire trip her friend seemed aloof and reserved. Unable to engage her in conversation, Beth continued to process her individual journey through journals and dreams. It came as quite a shock to her then when her friend expressed a desire to abandon the child and cease with the adoption plans.
At this point in the story, Beth herself had fallen in love with the child and declared that she would be willing to adopt her. With her husband's permission, she instead adopts the child who she names Lily. The story is heart wrenching at times, unbelievable in others. It is hard to understand how it is possible to pursue an adoption for three years only to decide, when the child is in arms no less!, that you've changed your mind. It is hard to wrap one's mind around that.
The bothersome part of this entire story is Russell's mystical side. The entire time she is in China, including the days and weeks leading up to it, she is having vivid dreams about various Chinese individuals. I confess to having skimmed the dream sections of this book because they seemed out of place and spiritually creepy (for lack of a better term). Russell does have a mystical side to her that is heavily played throughout the entire book. I found this distracting. However, the overall story is interesting and the point she is trying to make is that it is not ok to abandon adopted children.
One of my favorite publishers in the world of Asian international adoptions is Yeong & Yeong. They have published a marvelous set of books for adoptive parents as well as for adoptees. These are excellent resources and have been tremendously helpful to myself and my family.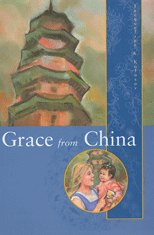 Grace from China is one such example of what Yeong & Yeong have to offer. The beautiful thing about Yeong & Yeong books is that they can be utlized by anyone, not just those who are pursuign an adoption. There is a great deal of factual information in their books which make them great for people who are curious about adoptions, have friends that are adopted or who are just curious about different cultures. Grace from China is written specifically for preteens and teens and focuses on Chinese adoptions. In this story we meet fourteen year old Jess, whose father has passed away. Before he died, their family had planned to adopt from China. Jess' mom decides that the right thing to do is to continue on with the planned adoption and this is the story of her's and Jess' journey to China to pick up their new family member, Xiao Ting (whom they name Grace). Weaved into this story are answers to questions such as: "Why an international adoption? Why not domestic? Why China? Why are only girls available for adoption in China? Where do these Chinese baby girls come from and where are they found?" It's a fascinating story.
This book (and the others) deal with the cultures as they exist. In other words, you learn about Chinese traditions and religious beliefs. I didn't feel like this was misplaced subject matter because it is the culture families are adopting into and adopting girls out of. It's important to know the history and culture of China when adopting and this book was exceptional in offering factual information.
One of the best books from Yeong & Yeong (in my opinion) is I Wish for You a Beautiful Life: Letters from Korean Birth Mothers of Ae Ran Won to their Children. I reviewed this particular book over on my personal blog, Reading to Know and I would heartily encourage you to read that review if you are interested in learning more about international adoptions.
For a more generic book on adoptions, you can also read my review of A Treasury of Adoption Miracles by Karen Kingsbury which I reviewed here on 5 Minutes for Books.
Carrie comes by her book obsession honestly, having descended from a long line of bibliophiles. She blogs about books regularly at Reading to Know.