Cabrera certainly has a unique style of illustrating her books and it's easy to pick them out in a crowd once you take notice of her work. When researching her I discovered that her talents are not just limited to writing and illustrating children's books. She seems to have a knack for creativity. She paints murals in her children's bedrooms, she makes mobiles and collects treasures from nature walks to expand her creativity and use of medium. She is environmentally conscious and loves using recycled material as she hones her art. A long time vegetarian and earth conscious individual, it is easier to understand and appreciate her work with a little bit of knowledge of who she is and what she cares about.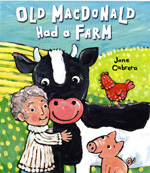 I recently had the opportunity to look through a few of her titles which have been published by Holiday House. Old MacDonald Had a Farm is familiar except in this version we meet his wife and baby. Each animal on the farm has it's own page spread and she uses bold colors to bring them to life. You can see the brush strokes of her paintbrush in these illustrations giving the book a more textured feel. However, at the same time, it's simplistic. She has been touted as breaking the mold when it comes to illustrating children's books. It certainly is agreeably different.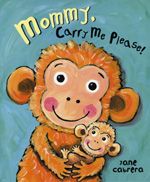 The second of her books I looked through (also published by Holiday House) was Mommy, Carry Me Please! which was a big hit with my two year old son. Again, each page spread features one animal. Children learn how various mommy animals carry their young. From beavers carrying their babies on their head to cross rivers, to baby kangaroos nestling in their mommy's pouch this book is sure to tug at your heart strings as you conclude with a human mommy holding her young son. We really liked this book.
I like Cabrera's style. I haven't ever seen anything quite like it before. It's whimsical and, although I find this hard to explain, somewhat unexpected. She doesn't illustrate in a manner that I have been familiar with so, in a way, she's breaking my own mold and expectations of what children's books can look like. This is fun art. Check out her work and see what you think! If you've read some of her other titles, I'd be curious to know more about them.
Carrie comes by her book obsession honestly, having descended from a long line of bibliophiles. She blogs about books regularly at Reading to Know.