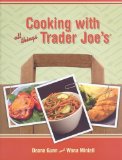 For all those foodie moms out there, this cookbook's for you. Cooking with All Things Trader Joe's was written by Deanna Gunn and Wona Miniati. Having met years ago while attending MIT, these two busy moms turned their passion for food and Trader Joe's into a full color guide on how to prepare quick and delicious meals. This hardback cookbook is divided into sections by type of dish, such as appetizers, soups and salads, entrees, and desserts. There is also a chapter devoted to breakfast and even ideas for bachelor meals. Every recipe has a color photograph, which I found very helpful and inspiring. What sets this cookbook apart is that many of the ingredients are specific to Trader Joe's, and some of these include sauces or prepared refrigerated or frozen foods, which keeps prep time to a minimum.
Not many shopping trips get my mouth watering like one to my local Trader Joe's grocery store. For those of you familiar with Trader Joe's, you know this is not your average food store. The great organic selection and interesting flavors combined with the decent prices make this my favorite culinary stop. After perusing the cookbook with my 10-year-old daughter, we decided to make "Polenta with Truffled Mushrooms," "Chicken Tortilla Soup," "Shredded Pork Enchiladas Verde," and "Tiramimousse." Armed with my detailed shopping list, I found all the ingredients except for truffle oil at Trader Joe's. We made these dishes over the course of several days, and they turned out to be easy and tasty. My favorite dish was the enchiladas (pictured), although the most quickly devoured was the soup.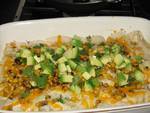 I would recommend this book to anyone who lives near a Trader Joe's grocery store and likes to eat more than they like to cook. The recipes are simple and easy to follow, yet the ingredients have interesting flavors, so there is nothing bland or boring. Having four children, I like to have them help (a totally relative term) in the kitchen. The steps are so clear and simple that my children (even the 3-year-old boy) could help without exasperating me! If you are a more advanced cook, then save this book for those busy days when you don't have much time. Either way, Cooking with All Things Trader Joe's would be a useful addition to every mom's cooking library.

Lee Elkins lives in New England with her husband and four children. In addition to reading, she enjoys cooking cuisine of all kinds, shopping (without her children) at Trader Joe's, and of course eating.