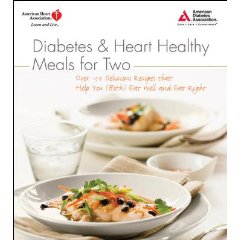 The idea of a cookbook for diabetics doesn't really sound all that appealing, does it? Or doesn't it? When I was pregnant with our first child I was told by my doctor that I should eat like I was a diabetic and so I tried to do that. (I am not saying I succeeded, mind you. I'm just saying I tried.) While I wasn't diabetic he wanted to make sure I was eating healthy and that was the easiest diet to point to. I hunted and browsed around online trying to find suitable (and tasty) recipes. I could have used this particular book back then.
Now there are three of us which makes a cookbook for two less necessary. However, it's as simple as anything to double a recipe if you decide you'd like to do so. I also used this book to make my son and I lunches while my husband was at work. It was great to have the motivation to make a healthy meal for my two year old and I to share. It's so easy to just try to throw something together quickly and this book encouraged me to make sure my toddler and I were well fed during the day.
The biggest question in my mind when I'm considering buying a recipe book is whether or not the ingredients are common enough throughout the book that the chances of my having the necessary items on hand are high. I don't like recipe books which force me to go shopping for unique items. Sure, I like to make meals exciting but I'm also extremely practical and with the economy the way that it is, simple recipes are sometimes best. I can say to you that this recipe book has quite a few recipes with "general" ingredients. There are some recipes that do require some planning ahead, but most of the stuff I had on hand.
I also refuse to give a positive review of any recipe book which I have not personally experimented with. I'd hate to tell you "this book is great!" unless I had eaten the food myself. I have sampled the goods and can honestly say the dishes were good. The recipes that we tried were on the lighter side, mostly. My son and I ate the Peach Melba Breakfast Parfaits for lunch one time. As a side dish, we sampled the Cherry Apples which were quite tasty and filling. I even made home made macaroni and cheese (with veggies) for the first time ever! Prior to this I had always used the boxed macaroni and cheese but this recipe was so simple I don't think I will ever go back to boxed. My son snarfed this down (he's a veggie lover so having broccoli and cheese was a tremendous treat). That particular recipe was absolutely awesome and a firm family favorite. (My husband tried the leftovers and approved.) The Peach-Glazed Chicken was also a hit and was declared "a nice variant on the chicken & rice theme."
All in all, our family really liked this book. And none of us are diabetic. I don't think you have to be in order to take advantage of these heart healthy meals. However, if you are, each recipe tells you what Exchange/Choices have been used, along with calorie and fat counts. I found this very helpful.) Another thing that is helpful is that the recipes are catagorized as to whether they are appetizers, main dishes (further divided up between seafood, poultry and other meats), vegetarian entrees, side dishes, breakfasts and desserts, among others. It is all broken down so that you can plan meals according to calorie intake or exchanges.
Again, it's also really easy to double the recipes to suit your needs. It is a worth while recipe book to own for evenings when you'd like to keep things light, simple and tasty. The recipes do satisfy.
The publisher has kindly agreed to give away one copy of Diabetes & Heart Healthy Meals for Two so leave a comment if you'd like to win! We'll announce the winner on December 17.
For more easy and delicious meals, check out today's other cookbook review, Cooking with all Things Trader Joe's.
The winners of last week's Flirting with Forty giveaway are:
81–Grand prize tote and book:
Book:
83 — Cassandra
103–Karli
140–Doris
144–Amandasue
12–Monica
136–Linda Peters
30–Ruth Bousquet
107–Marcy Strahan
47–Sharon Jones
111–Amy Ormsby
Carrie comes by her book obsession honestly, having descended from a long line of bibliophiles. She blogs about books regularly at Reading to Know.