I'm a little slow on the uptake. I don't jump into trends quickly, and sometimes it takes me a while to warm up to a theme or idea. I think that holidays even fall into this camp for me. For weeks leading up to Easter or Christmas, I sort of contemplate the work that Christ did, but afterwards — after a beautiful Christmas Eve service, after listening to Christmas music for a few weeks, and staring at my nativity scene decorating my home for a couple of weeks — THEN it finally sinks in.
It's Christmas. God sent Jesus to the earth as a miraculous baby, to grow up as a human.
But by that time, the Christmas CDs have been put away, the Christmas-themed books seem out of date and silly. But I think that for me, I should take this additional time after the holiday to ponder and continue to apply those truths to my life.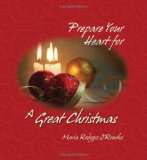 I was sent Maria Rodgers O'Rourke's Prepare Your Heart for a Great Christmas a while ago. Before Thanksgiving I think. Plenty of time to look at, review, and pass on to you — and you know, actually prepare my heart for Christmas. But I didn't.
When I finally picked it up this week, I saw that it is designed as a reflective devotional with room for journaling alongside each day's devotional reading. It starts at Thanksgiving and goes through December 25, but then there are about 15 more undated "Christmas Season" entries to carry you through the time after the big day.
Yes, the entries are mostly related to the advent of Jesus — mostly but not all. In general, the author appeals to us as women: tired, busy, confused women. She addresses the Santa issue (how to answer the questions, what he adds to the Christmas celebration and more), and of course that long long list of to-dos that seem to plague every woman this time of year.
Each day there is a space to write down something for which you are grateful, your intentions for the day, and your to-do list. What a great time to plan your day — in the midst of your time with God!
If you want a devotional that will prompt you to journal, or if you are looking for a gift for someone who you would like to encourage in this way, I highly recommend Prepare Your Heart for a Great Christmas. The entries are dated, but I plan on using the book as if it is not once I get beyond the Christmas season.

We even have three copies to give away (U.S. shipping addresses only), so leave a comment if you're interested. I'll announce the winners on December 17.
Managing Editor Jennifer Donovan is a contributing editor at 5 Minutes for Mom. She blogs at Snapshot about daily life with her tween daughter and preschool son.