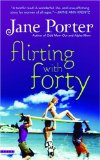 For Jackie's 40th birthday, her friend Anne arranges for them to leave Seattle's rainy winter and escape to beautiful Hawaii, but then Anne's husband gets sick, and Jackie, who is newly divorced, ends up going alone.
While she's there, she meets a younger man who makes her feel not-so-old. She's happy in Hawaii — relaxed, which isn't a word that we mothers often use to describe ourselves. When she returns to Seattle, she tries to figure out how to get that feeling back, while dealing with her ex-husband, her two kids, and her growing design business.
Her friends have supported her through so much, but can the married soccer moms support their single friend's fling with a younger man on a faraway island?
As a married mom myself (and quickly approaching 40 at that), I related well to these characters. I too have fantastic friends who support me. I can even relate to them having trouble dealing with this big change. In fact, as a happily married woman, I have a hard time just reading about her fling. Why? It's exciting and marriage is not always.
That said, reading about the heartbreak of divorce is almost as hard. Jackie's kids suffers, she suffers, and she wonders where she fits in now that her life has experienced this major change.
Flirting with Forty was a good quick escape novel. I could almost feel the warm breezes of a Hawaiian beach as I read it, and hopping a plane in these winter months sure is tempting! I enjoyed Jane Porter's Mrs. Perfect a bit more more (which I reviewed HERE), but I do know that I'll definitely be looking for more of Jane Porter's books in the future.
You can speak live with author Jane Porter on Blog Talk Radio on December 5th at 1PM ET. Call into (646) 378-0039, listen online or sign up for a reminder at Blogtalkradio.com.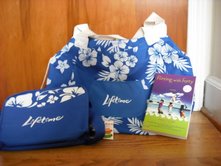 Flirting with Forty has also been made into a Lifetime Original Movie starring Heather Locklear. It premieres this weekend. Catch it December 6, 7, and 8 and 9pm ET/PT. I think it will make a cute movie, and if I watch it this weekend, I'll update this post with my thoughts.
We have a fantastic giveaway this week, open to U.S. and Canadian addresses. One of you will win this cool Lifetime beach tote with a copy of the book, and ten more of you will win the book. Leave a comment, and I'll post the winners December 10.
The winners of last week's giveaways are:

The winner of the great gift for booklovers, A Life Well Read, is #37 Deborah Wellenstein.

As a special thank you to all of you who didn't win, they have offered 10% off. Just enter DDALWR1 on the "Special Offers" page at www.alifeunplugged.com.

The winner of the Poirot Definitive Collection (which is now on sale at amazon for only $50) is #115 Felicia Shapiro.

The winners of the Lobster Tale DVD are #247 Katerina Webb, #145 Joanne, #250 Marc, #190 Sarah Hanson, #17 Carol Dziuba.
5 Minutes for Books managing editor Jennifer Donovan is a contributing editor at 5 Minutes for Mom. She blogs at Snapshot about daily life with her tween daughter and preschool son.