Have you answered our reader survey? I've loved reading the feedback I've gotten so far, and will publish the results next week, but if you haven't done it, could you take 2 minutes right now?
Today I want to share a great gift-idea for your own wish-list or for the booklover on your list. A Life Well Read: My personal journey through books is such a great gift idea, or something that the booklover will want to add to her bookshelf.
It's a beautiful boxed set that looks like a classic book so that it will feel right at home on your bookshelf.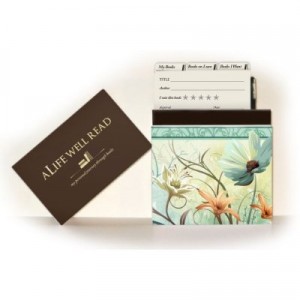 Inside the sturdy and decorative box, you'll find:
Cards to keep track of the books you read with a place to list title and author, where you got the book, how you rated the book, and notes and impressions.
Dividers to sort the cards: books on loan, books I want, books to give (one of my favorite elements — a way to remember fabulous books that make great gifts), my favorites, and many blank dividers to sort by your favorite genre, by family member, or however you'd like.
Two kinds of bookplates: "from the personal library of" and " this gift is especially for."
You can purchase it at their website: A Life Unplugged. It's also available at amazon.com.
The publishers have donated one copy to give away (U.S. shipping addresses only). If you'd like to win a set — for yourself or as a gift — leave a comment here. The winner will be announced next Wednesday.
Come back tomorrow for a special DVD giveaway as well!
The winner of Broken into Beautiful is #20 Mrs. Mommyy. With all of the heartfelt comments, I wished we could have given away 20 more, but if you didn't win it, this is definitely one we'd recommend.
Managing Editor Jennifer Donovan is a contributing editor at 5 Minutes for Mom. She blogs at Snapshot about daily life with a tween daughter and a preschool son.