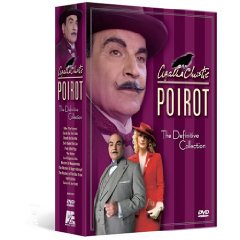 I am happy to step a little bit outside the true intent of the category to offer some great giveaways. I trust I won't hear any complaints, will I?
I haven't had a chance to watch (or read) any of Agatha Christie's Poirot: The Definitive Collection, which I really wanted to do before I posted it here. I actually checked a book out from the library so that I could read and watch and compare, but I didn't get around to it. I haven't read Christie in a while, and I would like to, but maybe one of you is a Poirot fan and would like to do a Books on Screen comparing a movie to the book.
I think that this would make a great gift! I always wonder what to give grandparents, and some of them do have DVD players, so classic films are a great way to go! This set of 12 feature-length films from A&E is available on amazon.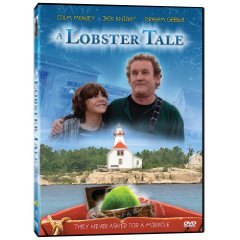 The other film that fits I am including here, simply because it has "tale" in the title (and I have five to give away, so that's another reason) is A Lobster Tale. I did get a chance to watch this. It's a fairly family-friendly movie (ages 10 or 12 and up) about greed, true happiness, being who you are — oh, yeah, and a miracle moss.
I will draw from the comments one winner of the Poirot DVD set, and five for A Lobster Tale DVD. Unless you state your preference, your comment will enter you for both prizes.
I'll post the winners on Wednesday December 3.
Managing Editor Jennifer Donovan is a contributing editor at 5 Minutes for Mom. She blogs at Snapshot about daily life with a tween daughter and a preschool son.