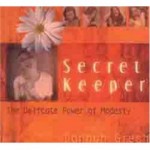 Secret Keeper is written for and designed to appeal to teen girls. Written by Dannah Gresh, author of The Bride Wore White, and published by Moody Press, this is a great conversation starter for the young girl in your life who is breaking into womanhood and is deciding who she wants to be and how she was to represent herself to the world.
The premise of the book is that we as females have a "secret to keep" in our attempts to guard our bodies by clothing them modestly and with dignity. We, who are created in the images of God and for His glory should treat our bodies with the same respect that their Creator does.
This book is blunt and to the point. Gresh does not tiptoe around the subject matter of sex and boldly discusses how males react when they see the female body clothed in certain ways (or, in some cases, barely clothed). She's pretty "in your face" about it so if you have a young lady in your home who is more discrete in behavior and dress, you might want to find a different title that addresses the same issues. I would say that this book is an eye opener when it comes to the differences between males and female. Gresh is blunt, sure, but not explicitly so giving you room to build on this book with additional information, thought and discussion.
Overall I'd say that this is worth checking into to see if it would appeal to the young teen girl in your life who is experiencing change in her body, mind and emotions. At an age where she is figuring life out, you might find this book to be an effective tool in answering the questions she has in a forthright way.
Carrie comes by her book obsession honestly, having descended from a long line of bibliophiles. She blogs about books regularly at Reading to Know.