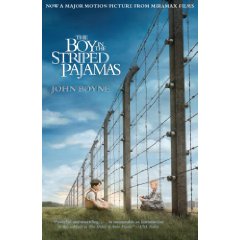 I wrote my senior research paper on the Holocaust and since then have always had been interested in anything that offered the opportunity to learn more about it. I began seeing the televisions ads for this movie about a month before it was supposed to be released, and immediately went and purchased the book by the same name (You can read my full review HERE). While I found it to be well written, after seeing the movie I can say that this is one of those rare instances where I believe the movie is better than the book, possibly because the movie is literally the book on film. Nothing was left out. It was just as I pictured it would be.
Asa Butterfield plays Bruno, the son of a German S.S. officer who has been assigned as the new commandant of Auschwitz (played by David Thewlis, who was Remus Lupin from the third and fifth Harry Potter movies). The story begins as the family is preparing to move to Poland from their home in Berlin. Bruno is sad to leave Berlin , like any child would be, because it means leaving behind his three best friends. When the family arrives at their new home, he discovers it to be isolated with no other homes or families near by. The only person around to play with is his twelve-year-old sister, Gretel, who is more interested in Lieutenant Kotler, a young S.S. officer who serves under Bruno's father. He tries playing ball…alone…building a swing…alone…and finally, giving in to his boredom, he disobeys his mother's instructions and sneaks out of the back garden and discovers a barbed-wire fence surrounding what he believes to be a farm. Just inside the fence, secretly sitting behind a pile of rubble is Schmuel, a young boy in "striped pajamas." Bruno has found his new friend.
On reading the book, it was a hard for me to accept that the child of a high-ranking Nazi S.S. officer, any German child really, would have never heard of a Jew and would have had no clue of what was happening to an entire race of people. This is not a story about the details of the Holocaust or the horrors of war, however, and I had to realize that before I could appreciate it. It is a story about the innocence and pureness and power of friendship.
There is so much of this movie that is visually symbolic. The warmth of the wood and décor of the house in Berlin vs. the cold white of the new house. The grayness of Schmuel's surroundings through the fence vs. the living green with yellow flowers on Bruno's side. The most striking, though, is what Bruno finds in the basement, a scene that was not in the book. You need to see it for yourself to appreciate it. Honestly, it made me gasp.
In my book review I recommended it for children as young as upper elementary grades, but as wonderful as the lessons of this story are, I would not take my fifth grader to see the movie. There is no blood, gore, sex or violence, but the emotion and details of the final scene would be a little beyond her understanding. The theater where I saw this movie was completely silent when it was over, and we all walked quietly away, lost in our own thoughts. I would certainly recommend it for teens and up as an excellent introduction to the Holocaust. While the ads say that it was released everywhere on November 21, it was not until a week later that I found a theater here in the Dallas/Fort Worth area where it was showing, and two weeks later it is still the only one. If you are lucky enough to live where this movie has been released, it is worth your time.
Find more information including a discussion guide at the official movie site.
Kipi Ward is a single mom of three girls who all love to read. A former elementary reading teacher, she currently is substituting while she finishes her master's degree in mediation. She blogs her random thoughts about life at In My Own Little Corner.